Return to Headlines
PSB Health Reminders: September 13, 2021
The communication below provides important information from the Public Schools of Brookline. Translated versions are available at the following links:
Dear Parents/Guardians and Staff:
As we begin the second full week of school, we are writing with some important health reminders. This is information I've previously shared, but it's so important that it bears repeating. Following these guidelines will help us keep our school communities healthy.
COVID-19 TESTING IN SCHOOL:
With the support of the Department of Elementary and Secondary Education, the PSB is offering two targeted COVID-19 testing programs.
The purpose of these COVID-19 testing programs is to minimize lost learning time by allowing eligible students to be tested and, if negative, stay in school, when requirements are met.
The BinaxNow rapid antigen test for individuals who become symptomatic while at school, and

A "Test to Stay" program for individuals who are determined to be close contact, according to DESE/DPH definition.
I strongly encourage you to sign the consent form which will enable your student to participate in these testing programs and decrease the need to stay home from school for quarantine purposes. Please find the one-time testing consent form here.
The protocols for these programs are here for your reference: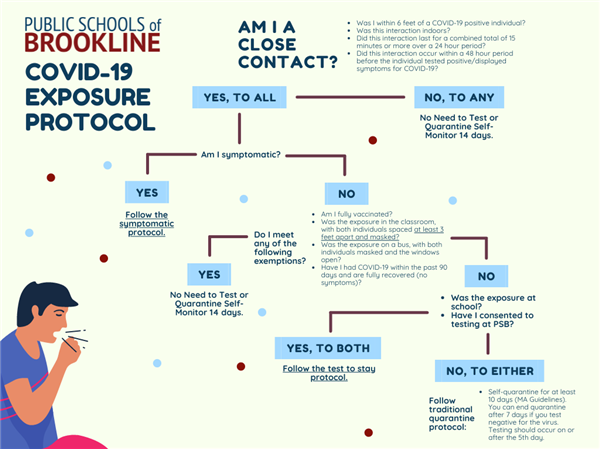 STAY HOME IF YOU HAVE COVID-19 SYMPTOMS:
Please know that very mild symptoms can be signs of COVID-19. Unfortunately, we have already observed symptomatic individuals coming to school. We need your support and commitment to following these important guidelines in order to keep everyone healthy and safe.
We request that you keep your child home, (or staff members, please stay home) when any of these symptoms are exhibited.
Fever (100.0° Fahrenheit or higher), chills or shaking chills
Difficulty breathing or shortness of breath
New loss of taste or smell
Muscle aches or body aches

Cough (not due to other known causes, such as a chronic cough)

Sore throat, when in combination with other symptoms

Nausea, vomiting, or diarrhea when in combination with other symptoms

Headache, when in combination with other symptoms

Fatigue, when in combination with other symptoms

Nasal congestion or runny nose (not due to other known causes, such as allergies), when in combination with other symptoms
Staff and families are asked to assess their child's state of wellness daily, before leaving home for school. The one-time attestation form for families, to acknowledge your commitment to these guidelines, can be found at www.brookline.k12.ma.us/healthattestation. The one-time attestation form for staff can be found in the PSB Staff Portal.
NEXT VACCINATION CLINIC:
The next COVID-19 Vaccine clinic will be at Lincoln School on September 30, 2021 from 6:30-7:30 pm. Please sign up using this link: https://www.appointmentquest.com/scheduler/2180061935?schedule=brooklineschool
Finally, we strongly urge every eligible student and staff member to be fully vaccinated against COVID-19. If you are not already fully vaccinated, please click here for a list of testing sites within 5-miles of Brookline should you experience symptoms of COVID-19.
Sincerely,
PSB Student Health Services