Return to Headlines
COVID-19 Vaccine Clinic at Lincoln School on Wednesday, October 27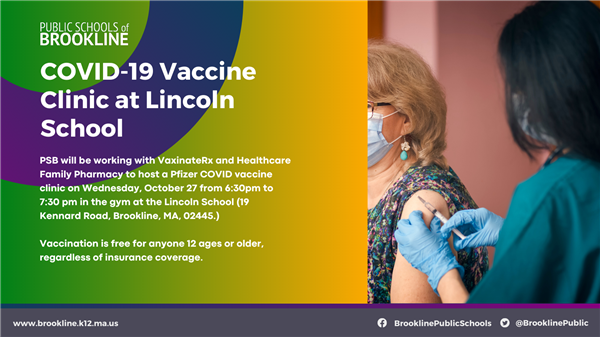 The communication below provides important information from the Public Schools of Brookline. Translated versions are available at the following links:
Dear Parents, Guardians, and Staff,


I want to let you know that the Public Schools of Brookline will host another vaccine clinic this school year. We are working with VaxinateRx and Healthcare Family Pharmacy to host our next COVID vaccine clinics on Wednesday, October 27 from 6:30-7:30 pm, in the gym at the Lincoln School (19 Kennard Road, Brookline, MA, 02445.)
You can register for the first vaccine, or the second of the Pfizer series, as long as it has been 3 weeks since the first dose.


Please use this link to register yourself or your child (must be 12 years of age or older): https://www.appointmentquest.com/scheduler/2180061935?schedule=brooklineschool


After registering you will receive an email with a link to the consent form for vaccination. Please fill out and print the consent form to bring to the appointment.


For anyone under the age of 18, a consent form signed by a parent/guardian must be presented in order to receive a vaccine. Parent/guardians do not need to be present as long as the child has a signed consent form.


Please plan on staying for 15 minutes after being vaccinated (30 minutes for anyone who has had a prior anaphylactic reaction to any medication). Vaccination is free for everyone regardless of insurance coverage.


We will be administering the Pfizer COVID-19 vaccine which is currently approved for ages 12 and up. We are working on plans to continue to offer Covid-19 vaccination clinics. Links will be sent to register for these clinics once the plans are finalized.


Sincerely,


Student Health Services Team
The Public Schools of Brookline