Return to Headlines
Announcement: Brookline Educators for Educational Diversity (BEED)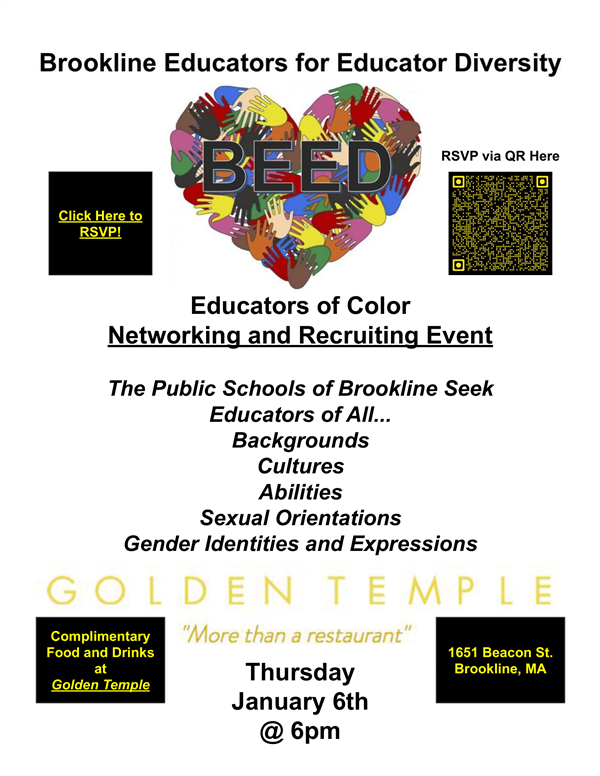 The communication below provides important information from the Public Schools of Brookline. Translated versions are available at the following links:
The Public Schools of Brookline is dedicated to creating an inclusive space for all of our educators and staff and extending this culture of belonging into our work with students and families. As we have stated, equity and social-emotional learning are two 2021-22 priorities for the district. To that end, I want to share our current and ongoing commitment to hiring and retaining educators from diverse racial and cultural backgrounds. We believe a diverse staff at all levels strengthens our expertise and decision-making and is integral in achieving lasting educational excellence.
As the Massachusetts Department of Elementary and Secondary Education describes, we understand that engaging more staff of color requires intentional, reflective, and open-minded practices that are grounded in both the technical work of revising talent activities and the adaptive work of exploring individual identity and the manifestation of biases. One lane we pledge to do some of this work is through the Brookline Educators for Educational Diversity (BEED) Team. In partnership with the Office of Human Resources, the Office of Educational Equity has launched this stipended district-wide educator task force with a goal to help align and organize diversity hiring, onboarding, and retention efforts across all levels of PSB. This work requires re-evaluating and revising current practices around recruitment and selection while also taking steps to create a more belonging culture through ongoing cultural proficiency work across the district.
BEED would like to share with the community that they will be hosting an Educators of Color Networking and Recruiting Event at Golden Temple in Brookline on January 6, 2022, from 6:00-7:30 p.m. This is the first of many opportunities this year to familiarize prospective candidates with our school system. It promises to be a powerful opportunity to connect and share who we are. Please spread the word!