Return to Headlines
PSB Special Education Program Review: Survey Launch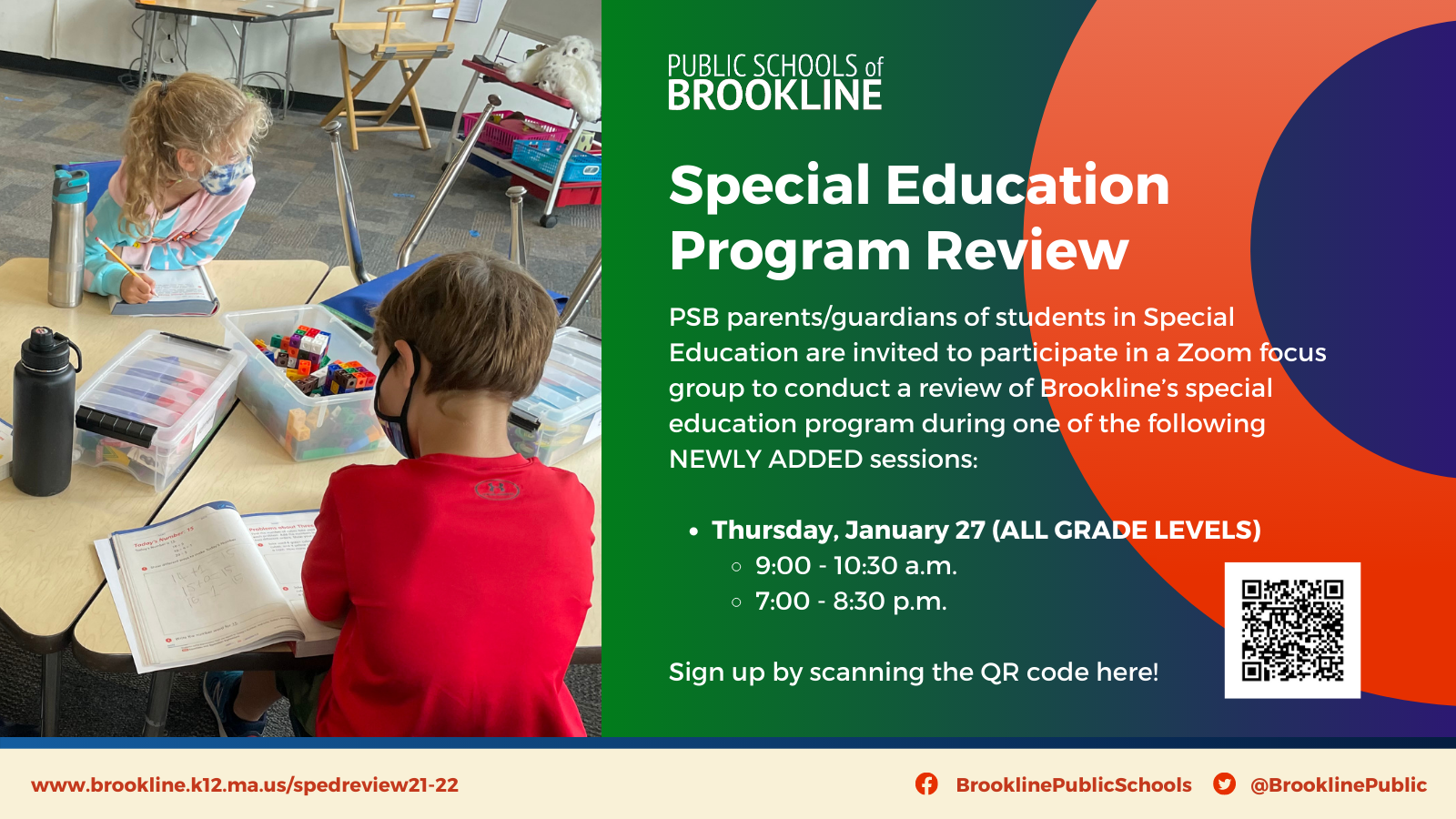 The communication below provides important information from the Public Schools of Brookline. Translated versions are available at the following links:
Dear Parents/Guardians of Students in Special Education,
We want to provide an update on the PSB Special Education Program review. As you are aware, this review seeks to answer the following questions:
To what extent do all students have equitable and effective support and access to both general education and special education programming?

What is the experience of parents/guardians as they engage in the planning and delivery of special education services for their children?

To what extent does the current special education organizational structure support effective programming for all students with special needs?
In addition to analyzing student data from the Public Schools of Brookline, the consultants have begun to interview and hold focus groups with key district stakeholders to gain an understanding of the district's current strengths and areas of need.


Parents/guardians of students in Special Education are one of these key stakeholder groups, and we are offering opportunities for ZOOM structured focus groups. Previously scheduled sessions (Tuesday, January 11 and Thursday, January 20) have filled up so we are offering two additional sessions:
| | | |
| --- | --- | --- |
| Thursday, January 27 | 9:00 - 10:30 AM | All grades |
| Thursday, January 27 | 7:00 - 8:30 PM | All Grades |
We encourage all voices to be heard in these focus groups. The consultants will be structuring the ZOOM meeting to provide an inclusive and comfortable experience for all participants. We hope to have a maximum of 25 parents at each meeting and will set up more meetings if there is a larger response. Please sign up for a meeting here.


Additionally, in an effort to maximize participation, we are offering an anonymous survey online. The survey will be open for the month of January, and your responses will be sent directly to the consultants. If you prefer a hard copy of the survey mailed to you or are requesting translations, please email casey_ngo_miller@psbma.org or call (617)-730-2444.


We look forward to learning from you.
Sincerely,
Office of Student Services
Public Schools of Brookline