Posted by Monica Crowley on 9/9/2022 1:00:00 PM
Dear Lawrence Families,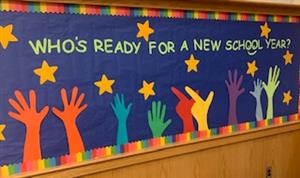 We are off to a great start to the school year!
I hope your child/ren is/are enjoying the start of school and feels excited to be back in the building. The energy has been so joyful and uplifting. Their smiles and desire to learn have made each day a delight and so rewarding. Every classroom has been focused on learning about each child and valuing what they bring to their learning environment.
In addition to the many community building activities that have taken place and will continue to take place in every space, students in kindergarten were learning how to draw people with "Mr Mat Man". In grade 1, they were designing and writing their own name tags and in second grade they were creating "All About Me" posters to showcase how special every student's name is and that they are important members of their learning community.
In third grade, students selected "Just Right" books and wrote about their school and out of school goals for the year. Fourth and fifth graders were engaged in robust math lessons about writing equations and problem solving.
The middle school students were getting used to their new team of teachers while navigating from one classroom to the next over the course of each day. They have been engaged in lessons about geography, understanding the difference between quantitative and qualitative observations, using accurate math vocabulary like translation, rotation and reflection, executing science labs on surface tension, engaging in reading and writing reflections and more.
You can learn more by attending the upcoming open houses. Grades K-5 will be on Wednesday, October 12th from 6-7pm and grades 6-8 on Thursday, October 13th, 6-8pm. Open houses this year will be in person, so you will be able to see your child's classroom and more. More information will be shared with families as we get closer to the open house dates.
Also, the PTO presidents and I will host the first PTO/Principal Forum on Wednesday, September 28th at 8:15am via Zoom. The link will be shared closer to the forum.
So happy to have everyone back!
Lawrence Loyalty,
Monica