Posted by Monica Crowley on 5/9/2021 7:00:00 AM
Hello Lawrence Families,
Thank you to the PTO for a wonderful teacher appreciation luncheon on Tuesday, May 4th and the METCO families for a delicious staff appreciation breakfast on Friday, May 7th. We are so appreciative of your support! We are also ecited about the BEF staff appreciation luncheon for May 14th!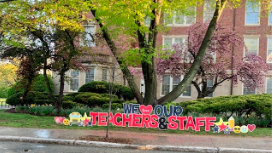 Did you know that May is Asian American Pacific Islander Heritage Month? The Brookline Asian American Family Network (BAAFN) worked with all 8 schools to create posters celebrating AAPI heritage and culture, to be displayed in school throughout the month of May. I hope you have seen this beautiful display in the main lobby! Thank you Lawrence DICE Team for coordinating this effort with BAAFN!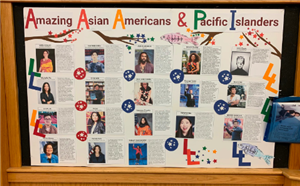 Virtual Japanese Fair: May 5-May 16
(https://lawrenceschoolbrookline.org/japanese-fair-2021/ )
Principal/PTO May Forums (Round 5 for the 20-21 school year)
K-5: Tuesday, May 11 at 7pm
6-8: Wednesday, May 12 at 7pm
Incoming Grade 6 Parent Evening
-Virtual welcome and information meeting set for Wednesday, June 9th at 4pm. Includes current RLA families.
Incoming Kindergarten Event
-Virtual welcome meeting set for Thursday, June 10 at 4pm
Grade 8 Graduation
Thursday, June 17th at 4pm on the Lawrence field.
-We will host a modified graduation that will feature some of the traditional Lawrence elements that are deemed COVID friendly. Includes current RLA families.
ChromeBook Collection or Not: The district wide Tech department (led by Scott Moore with all ETS staff) is discussing as to whether schools should or should not collect student Chromebooks to allow students to use over the summer. Once a decision has been made and principals have been notified, we will follow up with families.
Used Book Fair: Will be held under the tent at the following times:
Tuesday, June : 8am to 2pm
Wednesday, June 2: 8am to 4pm
Thursday, June 3: 8am to 2pm
Friday, June 4: 8am to 12pm
Students not Returning Next Year:
If your student is not planning to return to Brookline Public Schools in September please fill out the online withdrawal form at: https://www.brookline.k12.ma.us/Page/2326 as soon as possible. Whatever date will be the last day your child will attend school here at Lawrence will be the withdrawal date. For students finishing this school year 6/22/21 is the last day of school. The withdrawal process would not only apply to students moving out of Brookline but also apply to students who will be transferring to a private school, including 8th graders who will attend a high school other than Brookline High School. The main office is happy to provide any documents you need for your departure such as transcripts, attendance records and certificates of enrollment and it is never too soon for us to get started on them. Please note that the secretary will be off beginning July 3rd so we will need to process all your requested documents by July 2nd. If you have any questions about the withdrawal process please do not hesitate to contact school secretary, Christine Kohlsaat, directly at christine_kohlsaat@psbma.org or 617-879-4301.