Superintendent's Update: October 8, 2021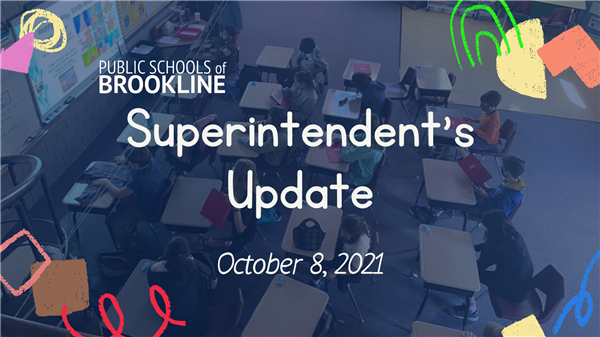 The communication below provides important information from the Public Schools of Brookline. Translated versions are available at the following links:

Greetings PSB Families and Staff,
I hope you take some time to relax and recharge over the long weekend! As you know, schools and district offices will be closed on Monday, October 11 in observance of Indigenous Peoples' Day. There are also several other important events at this time of year that provide us with the opportunity to learn and reflect on the diversity of our community. You can read my thoughts on these important events here.
As we continue to get into the heart of the school year, I look forward to seeing all that we will accomplish together in support of our students. Let us continue to guide them to future success by ensuring a high-quality education, strengthening a culture of care, and eliminating barriers in our community.
Sincerely,
Linus J. Guillory Jr., PhD
Superintendent of Schools
School Visits and Meetings
Earlier today, I had the pleasure of meeting with BEEP families and discussing Pre-K education, extended day, and the programmatic meeting with the Massachusetts Department of Early Education and Care (EEC) Commissioner Samantha Aigner-Treworgy. We also took time to celebrate the work of our staff and students! A big thank you to the BEEP PTO for inviting me to join them at their meeting, and to Principal Regina Watts and Program Coordinator Margaret Eberhardt for joining me to help answer questions from parents and guardians. My visits during school hours this week also include participating in an impromptu talent show with 2nd grade students at Runkle School during music time, as well as seeing some middle school students at the Ruffin Ridley School using scale concepts to re-design their math classrooms in a poster competition.


On Monday evening, I visited Brookline High School to join their modified Back-to-School night event. After a presentation in the Auditorium, Head of School Anthony Meyer and other BHS leaders, along with many student volunteers, led tours of the new STEM building. BHS parents and guardians were delighted to see the brand-new science wing and restaurant, and the entire BHS community looks forward to the completion of the expansion project with the new building at 22 Tappan Street and a new Cypress Field. I also had the opportunity to join the Brookline Education Foundation (BEF) at their October Board Meeting, held in the Ridley School cafeteria. Thank you to all PSB families for volunteering your time and participating in all of these amazing events. Our school district flourishes because of the work we do together to create a vibrant educational community.
Negotiations Update with the Brookline Educators Union (BEU)
The Brookline School Committee is pleased to have reached a tentative agreement with Brookline Educators Union (BEU) on a Memorandum of Agreement (MOA) for the reopening of schools in the 2021-22 school year. Highlights of this agreement include:
Implementation of the COVID-19 vaccine mandate for staff represented by the BEU (mandate originally established by the School Committee on September 10).

Teachers may live-stream their instruction for students who are absent because of COVID-19, where pedagogically appropriate.

Extension of a COVID-19 temporary emergency paid sick leave program through the end of the work year in June 2022.
I am grateful to the representatives of the School Committee and the BEU for all their work in reaching this agreement and I want to thank our students, staff, parents, and community for their patience and support during this bargaining period.
Driscoll School Building Project Update
During the Special Town Meeting held last night, Brookline Town Meeting members overwhelmingly approved the addition of a ground source heat pump (geothermal) system to the Driscoll School Building Project. This addition allows heat and energy for the new building to be supplied underground (rather than through the air) and will improve the school's energy efficiency while eliminating fossil fuel usage. Geothermal systems are also considered to be a renewable and green energy alternative to a furnace or a boiler. We want to thank the many PSB staff, families, and community members who petitioned and advocated for the warrant article, as well as the work of the Driscoll School Building Committee in guiding this project. Thanks to you, we are on our way to making schools a safer, cleaner, and better-looking environment!
Internet Safety in Schools
The Public Schools of Brookline is highly aware of the incidents the Brookline Police have reported around cyber safety and are in constant communication with each other when incidents involve students in our community. In PSB, we know that it is critical that we prepare our students for an ever-changing technology landscape. This includes addressing media literacy, cyber citizenship, and cyberbullying. This information is addressed in various grades in the Social Studies, Health and Technology & Engineering MA State standard. Additionally, should an issue arise at a school, guidance, health, technology, and classroom educators will and often collaborate to address the issue.
National Food Shortage
We are grateful to the PSB Food Services Department for their flexibility and resilience in navigating through a food shortage that has impacted schools across the country. As discussed in an update sent on Tuesday, delays in deliveries have affected PSB's ability to provide certain food items, leading to substitutions of menu items we've been able to offer regularly in the past. We know that this affects students, and we are doing our best to provide updates about menu changes when possible as soon as we identify an issue.
Please know that our number one priority continues to be providing healthy, nutritious, and appetizing meals for your children. As a reminder, breakfast and lunch are free for all PSB students for the entirety of the 2021-22 school year.
Spotlight on Excellence



This week's Spotlight on Excellence featured three Brookline High School students: Valentia Burlak, Sophie O'Connell, and Thomasin "T" Schmults. With support from the Performing Arts Department, in the summer of 2020, these three students started Spotlight Theatre, a drama program for PSB students in 6th-8th grade. Spotlight Theatre allowed BHS students to work with middle school students in rehearsing, adapting, and directing various shows and plays virtually. Valentia, T, and Sophie's leadership also extend beyond the stage, as they organized the entire Spotlight Theatre programming in creating enrollment forms, making costumes and sets, communicating with families, and more.


Since its inception, Spotlight Theatre has become something that is equally as positive for the BHS student directors, the middle school students participating in the program, and for the Brookline community in general. While Spotlight Theatre ran virtually all of last year, the program is now held twice a week after school at Lawrence for the 2021-22 school year. Thank you to Valentina, T, and Sophie for the fantastic program they have created for our community! Learn more about Spotlight Theatre here.
2021 Margaret Metzger Fellows
First established by the Brookline Education Foundation (BEF) in 2015, the Margaret Metzger Fellowship was created to support the continuation of Margaret Metzger's work, a former PSB teacher who always thought about the classroom, wrote about teaching, and furthered the art of educating young people. This year, the BEF is excited to honor her life and achievements with essays from six PSB educators:
Susan Balogh, Baker School

Zac Broken Rope, Brookline High School

Alisa Conner, Brookline High School

Will Gordon, Lawrence School

Colleen Kavanagh, Runkle School

Wan Wang, Driscoll School
These thoughtful, insightful essays will provide insight on experiences in the classroom and are a wonderful peek behind the curtain of what life is like as a teacher in Brookline. A live reading will be streamed virtually via the Brookline Interactive Group next Friday, October 15 at 5:00 p.m. Learn more about the event, this year's honorees, and the Brookline Education Foundation here.
PSB Department Updates
Food Service: PSB is one of six school districts selected to participate in the Massachusetts Farm to School Institute for the 2021-22 school year. This program is a year-long professional learning opportunity for participants to develop healthier communities by teaching and increasing local food purchasing and education at schools.



The PSB team, consisting of PSB staff, parents, and community members, participated in the Institute Kick-Off Event in Winchester last weekend. Stay tuned for more updates as we continue to build a Farm to School vision for Brookline!
Community Update
Brookline SEPAC Meeting: Last week, we included a brief update on the Brookline Special Education Parent Advisory Council (SEPAC). Please note that the next SEPAC meeting will be held on Sunday, October 17 from 7:00 - 8:30 PM via Zoom.

The meeting will include a presentation by Engaging Minds titled "Back to School Post-COVID; Executive Functioning Strategies for Successful Students" and will include tips on how to write Executive Functioning goals for Individualized Education Plans (IEP's). You can access the meeting agenda and Zoom Link Agenda and link at the Brookline SEPAC website.


A reminder that the Brookline Indigenous Peoples Celebration Committee, in partnership with the Native American Indian Center of Boston and the Brookline Office of Diversity, Inclusion, and Community Relations will host their 2021 Indigenous Peoples Day Celebration tomorrow, Saturday, October 9th from 2:00 - 4:00 p.m. at the Florida Ruffin Ridley School.
---