Grades 9-12 Registration
Pre-registration
Pre-registration begins with an online application and should be completed only by those families who meet the Residency Requirements. If you are a visitor, please review "Visitors and Public School Enrollment".
Pre-registration begins with the Registration Gateway.
*For Apple users, please note: Registration Gateway is only supported on OSX 10.7 and higher (10.8, 10.9, 10.10, 10.11).
Enter in all requested demographic data as requested by our application questionnaire. Please allow yourself ample time to complete the application questionnaire. We recommend using a non-mobile device to complete this task if possible, as it is easier with access to a keyboard.
Make an appointment for your Pre-Registration Meeting.
Pre-registration meetings will take place with staff from the Office of Student Affairs
Please bring the child for whom you are registering, the original documents, and required forms filled out.
Each family will produce health and immunizations to a school nurse
Children who may require English Language services will receive a pre-screening to determine need at the time of their Pre-Registration meeting
Documents to bring to your pre-registration meeting: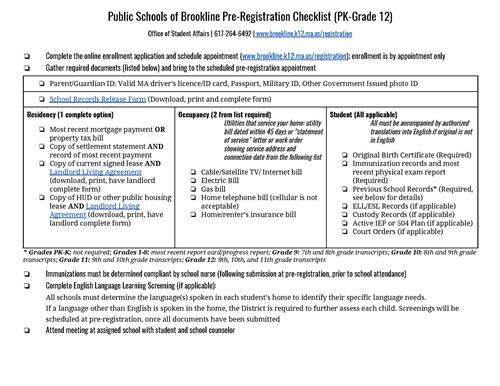 School records (notarized translation into English) - Complete records are required for class placement; school transcripts are required for transferring students must be
original, signed, and translated into English
(if applicable)
Students registering for Grade 9 are required to bring copies of their 7th and 8th grade transcripts that show promotion
Students registering for Grade 10 are required to bring copies of their 8th and 9th grade transcripts
Students registering for Grade 11 are required to bring copies of their 9th and 10th grade transcripts
Students registering for Grade 12 are required to bring copies of their 9th, 10th, and 11th grade transcripts
Forms to bring to your Pre-Registration meeting:
English Language Learning
Students who may require English Language Learning (ELL) services will be identified at the pre-registration appointment. Students who require an ELL screening will complete that assessment with the Brookline High School English Language evaluator.
Special Education
Students entering the Public Schools of Brookline with an active Individualized Education Plan (IEP) or 504 Plan must present that document at the time of the pre-registration meeting.
A special education administrator will review the document prior to school placement to assess any need for specialized programs, as well as to prepare the appropriate resources to administer the IEP in Brookline. The Special Education Department may require a meeting with the family prior to school placement.
Next Steps
After the Pre-Registration Meeting, the Office of Student Affairs will confirm Pre-Registration.
All families will contact the Health Clinic to make an appointment for the nurse to review immunizations and health forms.
Students requiring English Language Learning assessments must complete the screening with the evaluator at Brookline High School.
Students who present Special Education records will be contacted by the Brookline High School Special Education Department.
All families will be contacted by a Guidance Counselor to meet with the student and develop a class schedule.
The student is given a schedule, registered as an active student, and given a day on which they will start classes!