Heath faculty has been recipients of prestigious grants and awards and has been recognized for their excellence in teaching locally and nationally. Last year the Brookline Education Foundation awarded grants to more than 25 Heath teachers that included training in Schools Attuned, Responsive Classroom II training, attendance at national conferences, service learning, and a geology study.

The school supports activities that foster community. Pre-K through Grade 3 students participate in a monthly Heath Family Meeting. In Grades 4-8, elected representatives serve on Student Council. A number of school-wide events are held throughout the year, including Field Day, Day of the Reader, Science Day and the Martin Luther King, Jr. Day assembly and service day. We also have author visits and performances by groups such as Faustworks. Each class has a partnership with an older or younger grade and share joint activities throughout the year.

All grades participate in community service, and Student Council representatives help coordinate the Holiday Toy Drive and food drive for the Brookline Pantry. Students in grades 4 are in charge of recycling and a third grade class manages the Lost and Found. Individual classes also plan community service such as participation in the Jolly Jaunt for the Special Olympics. This year Heath was recognized for raising the greatest amount of money for the event sponsored by the Boston Special Olympics Committee. Heath also has a "Green Committee" to heighten environmental awareness and to explore environmental action for the school. This committee was instrumental in starting a Heath School community garden.

The PTO plays an important role in the school and organizes many events to encourage parent participation. Family events include a Welcome Barbeque, Family Math Night, Family Book Clubs that meet four times a year, International Night, Gallery Night, and the Mayfair. All families are members of the PTO.

As part of a system-wide effort, Heath students in grades 3, 5 and 7 participated in a bullying survey in May, 2011. System results, as well as the bullying prevention and intervention program currently being implemented throughout our schools, can be found in the "District Announcements" section (front page) of the Public Schools of Brookline website.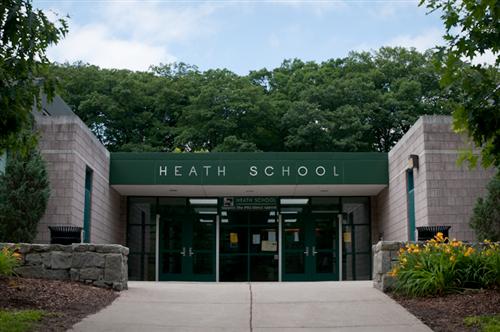 Heath School

Monday - Thursday
8:00 am - 2:30 pm

Friday

8:00 am - 1:40 pm

Dr. Asa Sevelius, Principal