The Amos A. Lawrence School, which abuts spacious Longwood Park, serves the Longwood Medical neighborhood and has an internationally diverse population of 620 students. Lawrence was fully renovated in 2003-2004, with additional space added for classrooms, library, and cafeteria.

We published a new school vision statement in January 2011. This statement represents the culmination of a fifteen-month process designed to elicit ideas from the entire school community and craft these ideas into a statement that reflects what we want Lawrence School to be.

School Vision

Amos A. Lawrence School is a safe, just and caring learning community of students, staff and families. We are a vibrant learning community with high expectations for academic excellence.

At Lawrence School, students learn to respect themselves and others and to value and honor the diversity of cultures, backgrounds, and learning differences. They develop the habits of mind, knowledge, and skills needed for high school and beyond, as they discover and cultivate a love of learning and a voice for self-expression. Students develop their capacity to work independently and cooperatively. They gain an understanding of their individual and collective responsibility to be contributing members to the Lawrence, Brookline, and larger global communities.

Lawrence School promotes a collaborative environment for faculty and staff that values and supports shared responsibility for all students. We provide all students with the differentiation, support and challenge necessary to make progress and achieve success. We are a professional learning community that cultivates reflective practice, excellence in teaching, and a passion for learning.

Lawrence School values and encourages families to be active, involved, and well-informed partners in the learning process.

Sense of Community

We support a strong, caring sense of community. Lawrence Community Meeting, a bi-weekly gathering for grades PK-5 enables children and staff to develop a feeling of connectedness to the rest of the school. Community Meeting provides a forum for celebrating learning where students or classes share their work. In grades 6-8, students participate in an advisory program, meeting three times a week with a teacher advisor, to continue to support this feeling of connectedness for our young adolescents.

Diversity of Learners

Lawrence School embraces its diverse learners. Over 100 of our students are English Language Learners. About 60% of these students speak Japanese, with the others representing at least 15 different languages from around the world. As part of its special education services, Lawrence offers an Intensive Learning Program (ILP) that is designed for students with varied disabilities who require a higher level of services. The ILP provides a low staff-to-student ratio allowing for increase individualization and higher levels of specialized instruction.

Family Involvement

An active PTO plans a number of events, such as Fall and Spring Picnics, International Night, Family Fun Night, a Book Fair, and the PTO Play to encourage parent participation and nurture a sense of school community. The PTO and the School Council work actively to maintain open communication between parents and the school in the spirit of partnership.

Lawrence School Bullying Survey Report

As part of a system-wide effort, Lawrence students in grade 3 participated in a district bullying survey. In addition, as part of a school-based initiative, students in grades 4-8 participated in a survey developed by a Lawrence parent-teacher task force. System results, as well as the bullying prevention and intervention program currently being implemented throughout our schools, can be found in the "District Announcements" section (front page) of the Public Schools of Brookline website.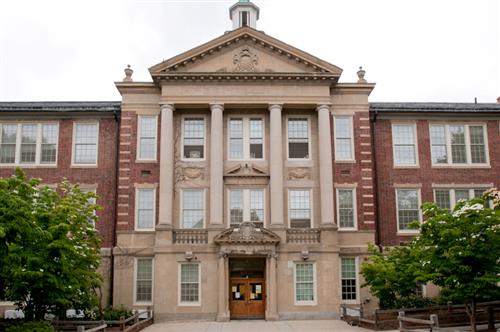 Amos A. Lawrence School

Monday - Thursday
8:00 am - 2:30 pm

Friday

8:00 am - 1:40 pm

Monica Crowley, Principal