The strong academic culture is evident in our students' achievements in traditional assessments and in other areas, such as National Geographic' s Annual Geography Bee, the town-wide math league, Math Counts for 7th and 8th grade students and our school's service learning projects where students learn about the needs and circumstances of others. Students then use their knowledge to help those organizations which support the various identified needs. Our students have a number of varying service learning experiences. "Hope Found" (3rd grade annual Shattuck Shelter project), Half-Way Day contributions to Brookline New Pathways Halfway House (led by 5th graders), the Barakat organization - a program supporting Afghan Women's Literacy (our sixth graders lead this effort) and the Walk for Hunger (a 7th grade project) are some examples of the programs made possible through a strong community service and service learning focus. Students participate enthusiastically in growing numbers each year.





Collaboration among staff is highly valued and is facilitated on a daily basis by the school's physical layout. Pierce School is situated in a campus-like setting, with classrooms in two separate buildings. The historical building, a more traditional school structure, houses all of our kindergarten classes, a first and second grade class, and most of our 7th and 8th grade classes. The main building, completed in 1974, is an open structure that reflects the open classroom philosophy. Our three-story school library serves as a hub for teaching and learning, as it is surrounded by most of our open classroom spaces.

Our active parent community allows students and families to experience a variety of extra-curricular programming at Pierce School. The Performing Arts program presents two musicals each year, one for grades 3-6 and another for grades 7 and 8. The PTO also sponsors a range of school-wide activities, such as performances arranged through the Brookline Arts Council, the quarterly Principal's Forums, the annual Book Fair, Skate Night at Larz Anderson and the annual Pierce Picnic, to name a few.

Pierce graduates experience a smooth transition to our large high school campus of three buildings, having become accustomed to a multiple building setting at Pierce. Over the years, students have frequently returned to Pierce as interns and staff as a result of our close-knit and caring community of teachers, students and parents.


In 2005, the Pierce School celebrated its 150th anniversary year (1855-2005), making it one of the oldest schools in Brookline.

As part of a system-wide effort, Pierce students in grades 3, 5 and 7 participated in a bullying survery in May, 2011. System results, we well as the bullying prevention and intervention program currently being implemented throughout our schools, can be found in the "District Announcements" section (front page) of the Public Schools of Brookline website.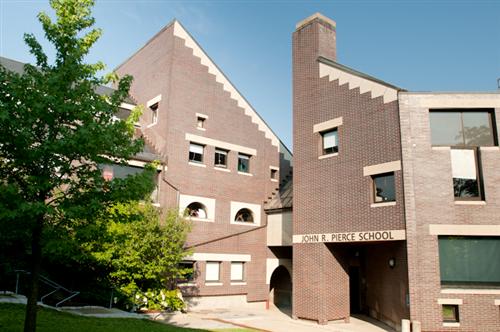 Brookline, MA 02445

617-730-2580

Monday - Thursday
8:00 am - 2:30 pm

Friday

8:00 am - 1:40 pm

Jamie Yadoff, Interim Principal