Florida Ruffin Ridley School
Community service is one of the many attributes defining the Florida Ruffin Ridley spirit. From Kindergarteners, 1st, 2nd, 3rd and 6th graders designing and selling calendars to raise money for Heifer International to 7th and 8th graders engaging in a myriad of community action projects to support local and international causes, there is never a lull in efforts to help others.

The Ruffin Ridley faculty represents an array of talented professionals. The school maintains a strong emphasis on adult learning. Each year Ruffin Ridley teachers are awarded numerous grants from the Brookline Education Foundation. In the 2009-2010 school year, upwards of 37 teachers received grants that supported learning opportunities. "Guided Reading in Chapter Book Fiction," "Fostering Adult Learning Groups," "Building Science Professional Development Capacity," "Improving Writing through Writers' Express Strategies" were among a dozen summer and year-long professional learning opportunities designed and selected by Coolidge Corner staff.

Parents of students at the Ruffin Ridley School are active members in the PTO. Together with Devotion Alliance, a nonprofit corporation comprised of alumni and current families, and with our diligent principal, the traditions of excellence and caring that are the hallmarks of the community are maintained and enhanced.

Vision

The Florida Ruffin Ridley School vision, the force giving meaning to the faculty's work, is broken into three components and is revisited annually as staff affirm their commitment to teaching. The vision for the students and Ruffin Ridley staff encompasses three areas.

ACADEMIC

—We work hard so we can become smarter. We take risks as learners. We communicate effectively: orally, in writing, and through technology.

COMMUNITY

—We make sure everyone feels physically, emotionally and intellectually safe. We give and receive respect. We have compassion for one another. We contribute to our school, our community, and to our world. We establish and maintain healthy friendships.

WHOLE PERSON

—We are confident in our abilities. We love to learn and strive to become lifelong learners.

The system-wide programs offered at Ruffin Ridley are the English Language Learner program with a high concentration of Hebrew speakers, and a K through 8 Therapeutic Learning Center for students who need intensive social and emotional supports.

One of the most diverse schools in Brookline, our K-8th grade population represents 38 countries (plus the Commonwealth of Puerto Rico) including Afghanistan, Austria, Benin, Bulgaria, Cambodia, Canada, Chile, China, Croatia, Cyprus, Ecuador, El Salvador, Eritrea, Ethiopia, France, Germany, Greece, Guatemala, Haiti, Hungary, India, Iran, Israel, Italy, Japan, Kenya, Korea, Libyan, Mexico, Peru, Poland, Russia, Slovakia, Spain, Switzerland, Thailand, the United Kingdom and Uzbekistan.

As part of a system-wide effort, Ruffin Ridley students in grades 3, 5 and 7 participated in a bullying survey in May, 2011. System results, as well as the bullying prevention and intervention program currently being implemented throughout our schools, can be found in the "District Announcements" section (front page) of the Public Schools of Brookline website.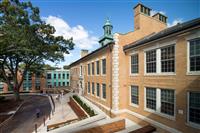 Florida Ruffin Ridley School

Brookline, MA 02446
617-879-4400

Monday - Thursday
8:00 am - 2:30 pm

Friday

8:00 am - 1:40 pm

Jennifer Buller, Principal
Email