Posted by Sarah Baker on 10/20/2017 10:00:00 AM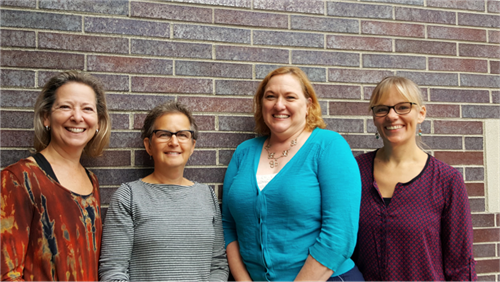 From left to right: Norma Gordon, District-wide Math Coach for grades 6-8; Julie Boss, District-wide Math Specialist for K-5; Clairemarie O'Leary, Math Department Assistant; Kathleen Hubbard, K-8 Math Curriculum Coordinator
Follow us on Twitter: @KBHubbardMath, @normabgordon
What's new in the Math Department?
Brookline math teachers and specialists have been exploring Mathematical Mindsets through the work of Professor Jo Boaler and her team at Stanford University. This work is about helping students to see that everyone can do well in math; that mistakes, struggle and persistence are all important; that mathematics is an open, growing, visual, creative subject; and that communicating, reasoning about, and justifying ideas are central acts in the work of mathematics. You can learn more about these ideas on the website youcubed.org. Here you will find research, videos, books, and resources for parents. You may want to check out Jo's free online course, her most recent Tedx Talk, or her latest article recently published in Time Magazine.
Math Program Review
The Office of Teaching and Learning is recruiting parent volunteers to serve on the Program Review Committee for the K-8 Mathematics Program. This is an excellent opportunity to work collaboratively with a cross-section of the community on a project that will directly result in improving achievement for all students. Since 2004, all Brookline Public School programs and curriculum areas enter in and work through a review process, during which a committee gathers information and examines data to develop goals and identify strategies for continuous program improvement. The goal of the review process is to improve student achievement. A Program Review committee is responsible for working through this process for each program. K-8 Mathematics is entering into its second round of Program Review. The last K-12 Mathematics Program Review took place in 2005.