Posted by Nadine Ekstrom on 11/22/2017 1:00:00 AM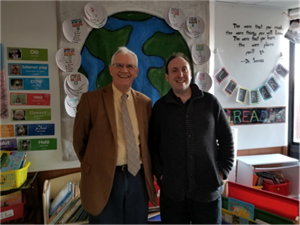 Dr. Geoff Tegnell and 2nd grade Social Studies Resource Reviewer Mr. Daniel Lipton
K-8 Social Studies Resource Review
Last summer we conducted an equity/diversity review of our K-8 Social Studies instructional resources. Utilizing best practices equity guidelines provided such organizations as Anti-Bias Education and Teaching Tolerance, we developed an equity/diversity worksheet to collect data for this review. This worksheet called upon reviewers to employ the lenses of racial, ethnic, gender, and sexual preference equity in order to weigh the cultural and historical accuracy of our Social Studies resources, evaluate the presentation of multiple perspectives, and assess freedom of grade-level resources from dubious inferences, stereotypes, and bias.
K-8 teachers Tanya Paris, Nicole Zographos, Daniel Lipton, Gretchen Albertini, Nancy Springer, Cheryl Klausner, Jeff Denman, Andrew Cook, and Jacqueline Hallo volunteered to be the Social Studies Resource Reviewers of their grades and used our worksheet to evaluate the texts, trade books, and atlases our program provisions them with. They found that, by and large, our resources are accurate, honor multiple perspectives, and lack explicit bias. However, reviewers detected a few equity/diversity weak points in our resources, for example, a couple of instances of downplaying of impact of slavery, some inadequate reference to the impact of colonization on Native Americans, and little reference to LGBTQ's.
We immediately notified grade-level teachers about these weak points and sent them supplementary online materials. In addition, over the past nine months our Curriculum Renewer and First Adopter teacher teams have purchased, piloted, and disseminated equity and diversity picture book, biography, historical narrative, memoir, and informational trade books for Kindergarten through 4th grade. I am currently meeting with K-4 school-based teacher teams to provision them with our new materials. My future plan is to provide our 5-8 teachers with both supplementary texts and professional development that focuses on those marginalized in our resources. Thanks again to our reviewers and grade level teams who have worked so diligently to make our K-8 program more equitable and inclusive.