Posted by Nadine Ekstrom on 12/13/2017 10:00:00 AM
The Performing Arts Department Is Abuzz With Activity!
Freshman Play_Joseph and the Star Catcher, the students are, left to right, Eve Jones, Tamar Paserman, Phoebe Kallaher, Jamie Hintz (front), Lina Scoccia, Marina Leal, Henry Brill, Yuen Ler Chow)
This fall, the Brookline K-12 Performing Arts Department was awarded the Brookline Education Foundation's 35th Anniversary Gift to embark on a very special yearlong project to work with world-renowned composer and Brookline resident, Jim Papoulis. Through this generous gift, the Performing Arts Department commissioned Jim Papoulis to lead songwriting workshops with students in all grades and together create songs that come from and embody the spirit of Brookline's young people. These songs represent our students' feelings, hopes and dreams, and will become part of Brookline's Performing Arts repertoire and curriculum. We began the first part of this project in October when Jim met with every student in grades 6 through 8, system-wide, as well as many of our 9th through 12th grade chorus students. Together, our students and Jim created "Let Us Rise As A People," a beautiful song for four-part choir, orchestra and percussion. The world premiere of the piece will feature our 6th through 8th grade and high school combined choruses and orchestras with Jim Papoulis accompanying on piano. Please join us for this event at the All-Town Choral Concert on January 9th and 10th, 2018, at 7pm in the Brookline High School Roberts/Dubbs Auditorium. Throughout the remainder of our school year, Jim will work with our kindergarten through fifth grade students to create more original music together.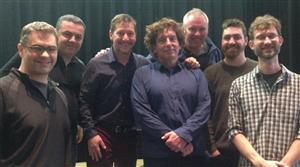 left to right, Brookline Music Teachers Michael Carey, Elton Xhoja, Kenny Kozol (K-12 Performing Arts Curriculum Coordinator), Composer Jim Papoulis, Chris Thoft-Brown, Dylan Zobel and Rick Stone.
December begins our busy winter performing arts season, showcasing the results of many months of hard work of our students, as well highlighting what students do daily in their music, drama and dance classes in Brookline. Last week, our 9th graders at Brookline High School had a stellar run of Peter and the Starcatcher, this year's annual Freshman Play, directed by BHS drama teacher Summer Williams with Technical Director, BHS drama and backstage teacher Mark VanDerzee. This Thursday, December 14th, at 7:00pm in the BHS Roberts/Dubbs Auditorium, we have our annual Brookline High School Winter Concert, featuring all of our BHS choruses, bands, and orchestras. It is a lively night of many styles of music from many parts of the world. To end 2017, we will have three performances of Revisions, our annual student show of music, improv theater, dance and more! Join us in Brookline High School's Dance Studio One (downstairs in the Tappan Gym) on Thursday, Dec. 21 at 3:30pm and 7:30pm and Friday, Dec. 22 at 7:30pm. Stay tuned for many elementary holiday performances, and upcoming winter Band, Orchestra and Chorus concerts this January and February! Other performances at Brookline High School this winter and into the spring include a drama festival, musical (Pippin), chamber concert and much more! You can find a calendar of all Brookline High School Performing Arts events at www.brooklinefopa.org.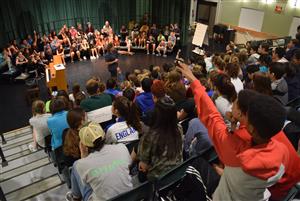 Jim Papoulis Working With Students at Pierce School