Posted by Nadine Ekstrom on 1/10/2018 10:00:00 AM
Nurturing Curious Lifelong Learners in Brookline
By Janet MacNeil, PreK-8 Science Coordinator
This month's blog features information on the PreK-8 Science & Engineering program presented in a question-and-answer format.
How Do We Teach PreK-8 Science & Engineering in Brookline?
Brookline's PreK-8 Science & Engineering curriculum is designed to inspire students to think of themselves as scientists and engineers, and to give them authentic, engaging experiences that require them to figure out scientific phenomenon (solving the mysteries of science) and solve real engineering problems. Instead of listening to teachers' lectures, students are diving into hands-on inquiries with intriguing materials, asking questions, creating and explaining models, making claims based on evidence, thinking critically, and actively participating in their learning. They use science notebooks and tools, explore the wonders of science outside in school gardens, and collaborate (helping each other build knowledge). All units and kits of materials are co-created by the Science Coordinator and teams of teachers.
In addition, the Nature of Science is woven throughout the curriculum (What is science? Who are scientists? How and where to they work? How does science change over time based on new evidence and tools?). In this way, students get to know the people behind science as well as the importance of science in our daily lives.
Why Do We Teach This Way?
Our curriculum is designed to ensure that all students have a deep, enduring understanding of how to think and work as scientists and engineers, as well as key scientific and engineering concepts that will have real world connections for them throughout their lives. We want them to be curious life-long learners, critical thinkers, stewards of the environment, and responsible global citizens who are equipped with the skills they need to innovate and thrive in the 21st century.
How Can Science Spark Interest in Literacy?
When students have investigated science phenomena as far as they can on their own to answer their questions, it's time to turn to other sources for additional information. Intriguing science lessons often spark student interest in reading to find out more about topics of interest, as well as talking and writing to share what they learned with others. For these reasons, science talk, writing and reading are built into the Science/Engineering units and teachers are provided with high quality media (books, videos, and online resources) at various reading levels to support student learning. In addition, we offer extensive professional development for Brookline teachers on weaving science with literacy. This work, which highlights science instruction in Brookline classrooms, is now being shared with teachers worldwide in The Stories of Science: Integrating Reading, Writing, Speaking and Listening into Science Instruction by Janet MacNeil, Mark Goldner, and Melissa London (Heinemann).
What Can You Do At Home?
Science learning doesn't just have to happen in school! You can provide engaging materials, books, a science notebook (a blank, unruled composition notebook is best), colored pencils, a magnifying glass, and opportunities for your child to explore. Check out the NSTA Outstanding Science Trade Book lists and Ten-Minute Field Trips by Helen Ross Russell for ideas. (Ten-Minute Field Trips is also available from amazon.com.)
"Of The Value of Saying I Don't Know" (starting on page 7 of Ten-Minute Field Trips) highlights our philosophy of teaching science--we highly recommend that all parents read it. Although it's hard to do, the best thing we can do to nurture science learners is not to answer all their questions. (When we answer a child's questions, it actually stifles their curiosity!) Instead, turn the question back to them: "How can we find out? What can we do to investigate that?" In this way, we teach children the skills they need to find their own answers to their questions. . . just like true scientists."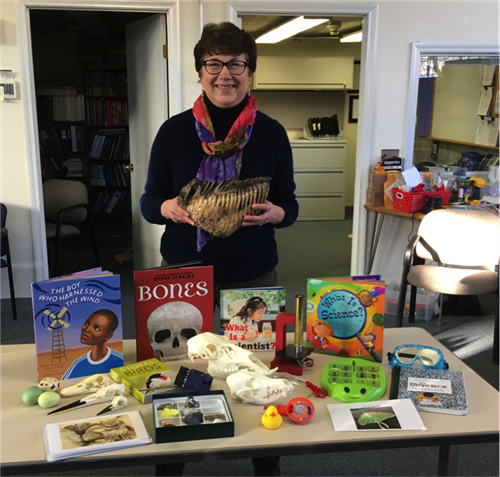 Janet MacNeil, PreK-8 Science Coordinator shows off some of the science and engineering materials that students use in our classrooms. Follow Janet on Twitter (@curiouslearner8), Pinterest (Janet3356), and via her website (janetmacneil.com).