Posted by Nadine Ekstrom on 3/14/2018 10:00:00 AM
K-8 World Language Program News
by Tanya Alvarado, K-8 World Language Coordinator
The World Language department has been collaborating with the Office of Teaching and Learning, school administrators, staff and families to create several key documents that will soon appear on the district website's Programs page. We're excited to share these now with the entire community:
Vision Statement:
The K-8 World Language Program reflects Brookline's ongoing commitment to preparing its students to succeed in a multilingual and multicultural global society while raising their awareness of their own role as global citizens. Our school district deeply values the importance of learning a world language as an essential part of every student's education.
In our Elementary World Language Program, every Brookline student in grades K-8 has class from 3-5 times per week, depending on the grade level. Students develop language skills to interact with others in their community and beyond, as well as to gain an understanding of and appreciation for the rich traditions and diverse perspectives of other cultures. We offer students a variety of opportunities to develop their communicative skills for real-life application, whether they're learning another language for the first time, already speak more than one language or are heritage or native language learners.
In support of this Vision, we also made a Commitment to heritage and native language learners and shifted practices regarding the 5th grade World Language selection (when students choose their middle school language). We acknowledge that each child, along with his/her/their family, should freely decide which language to study in grades 6-8, regardless of a child's linguistic or cultural background. You can read the full Commitment here.
Tanya Alvarado at the Sperber Education Center: Unpacking books for Lawrence teacher Kaitlin Robinson's project on integrating authentic picture books into the K-5 Spanish curriculum.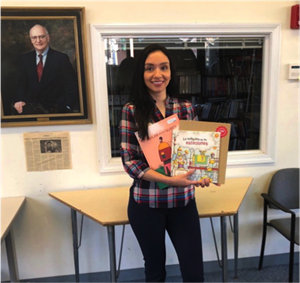 We also updated our K-5 World Language Program Overview to include the integral role of the K-5 classroom teacher, who collaborates with the world language instructor to support world language instruction, help create the conditions that are necessary for students to develop as language learners, and help facilitate interdisciplinary connections. You can read the full K-5 Program Overview here.
We also have our first 6-8 World Language Program Overview. In it, we share our transition from textbook-based instruction to this year's new thematic curriculum units. These units now provide middle school students with a continuity of instruction from our K-5 program model. We included the following comparison chart from from the introduction to ACTFL's 21st Century Skills Map, which highlights this pedagogical shift. You can read the full 6-8 Program Overview here.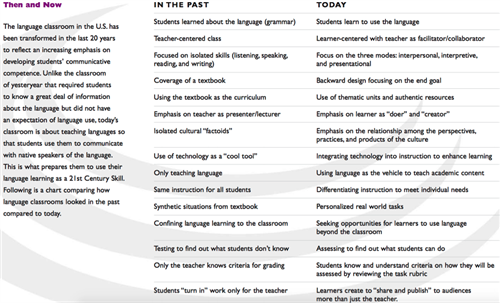 For the full 21st Century Skills Map, click here.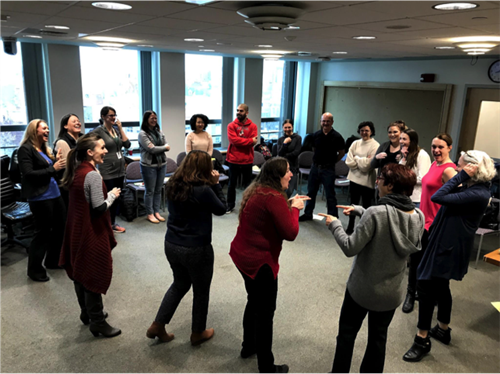 "Organic World Language" Professional Development:
Middle school teachers experiencing the joy that a communicative classroom brings when students are kept front and center.