Posted by Nadine Ekstrom on 5/2/2018 10:00:00 AM
Brookline K-12 Wellness Education Department
The K-12 Health, Physical Education and Fitness Department recently underwent a name change. The new department title is the Brookline K-12 Wellness Education Department. The name change was significant to better exemplify our programs' focus and coordinated approach to children's health.
Program Description
Our programs provide a "wellness" approach to student learning and wellbeing. Wellness education encompasses a culture of holistic wellbeing focused on educating, promoting and supporting all dimensions of health education (i.e., physical, intellectual, mental and emotional, social, and ethical). Collaboration with other school and community-based health services supports the efforts of educating and empowering students to access resources and intervention services outside of the classroom. The mission of wellness education is to provide students with age and developmentally appropriate knowledge and skills to develop behaviors and attitudes to be healthy and productive for a lifetime.
Health education and physical education curricula align with the state and national standards, which identify what students should know and be able to do. Specifically, students in physical education and fitness are taught to demonstrate competency in a variety of motor skills and movement patterns, apply knowledge of concepts, principles, strategies and tactics related to movement and performance, demonstrate the knowledge and skills necessary to achieve and maintain a health-enhancing level of physical activity and fitness, and exhibit responsible personal and social behavior that respects self and others. To further influence students' lifelong engagement in physical activity, they are prepared to recognize the value of physical activity for health, enjoyment, challenge, self-expression and/or social interaction.
Health education teachers utilize a skills-based approached to student learning. With skills-based instruction, students have ongoing opportunities to practice skills such as analyzing influences on health behaviors, decision-making, goal setting, and communication to enhance health and avoid or reduce risk behaviors. Students learn content (substance awareness, violence prevention, human sexuality, mental health, nutrition and First Aid/CPR) through the practice and application of life skills.
Students, in grades K-8, receive physical education two days per week. Students, in grades 7-8, receive skills-based health education two days per week each year. Ninth grade students, enrolled in Lifetime Wellness, receive instruction four days per week for one semester (2 classes in the classroom for health education and 2 days in the gym for lifetime activity/fitness education). Tenth through twelfth grade students complete one semester of lifetime activity/fitness per year.
Brookline Education Foundation Grant Recipient
In 2017, we received a BEF Grant to focus on improving assessment and pedagogical practices in physical education and fitness courses. The grant afforded the opportunity for the K-12 Coordinator for Wellness Education, two K-8 physical education teachers, and two high school fitness teachers to attend the 2018 SHAPE National Convention. Through participation in the convention, we gained additional knowledge of authentic assessments and pedagogical trends to better prepare physical education teachers for successful programing. Further, we expanded our networking possibilities with some of the most notable health and physical education professionals throughout the country. The design of this project also fostered teacher leadership and collaborative opportunities in training and supporting physical education and fitness teachers district-wide. Thank you, BEF, for this amazing professional learning opportunity.
Left to right: Scott Newman, Amanda Grandstaff, Tina Bozeman, Gretchen Lima, Billy Graham
K-8 Physical Education Release Day Workshop
The changing landscape of physical education requires teachers to engage in ongoing professional development to ensure their instruction remains current and effective. Our expectation for physical education programs, within the Public Schools of Brookline, consistently and effectively focus on students' cognitive and skill development, cooperation, appreciation, and enjoyment of movement. Physical education teachers had an amazing opportunity to learn from Dr. Shirley Holt-Hale at a workshop, earlier this month, which focused on the National Physical Education Standards and Grade Level Outcomes. Dr. Holt-Hale is a national recognized expert in elementary physical education.

Health Education Release Day Workshop
Earlier this year, health education teachers participated in a skills-based health education workshop facilitated by Melanie Lynch, 2016 National Health Education Teacher of the Year. Teachers learned and participated in best practices for teaching health education. Teachers also received a wealth of lesson ideas and other resources to enhance their current health education pedagogy.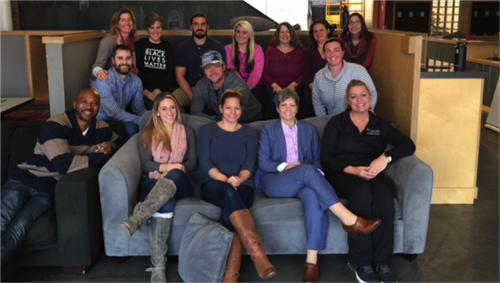 Annual PBS Track & Field Meet
For decades, students in grades 5-8 have participated in the annual PSB Track & Field Meet. This year is no exception. Fifth and sixth graders will participate on May 29 (rain date: May 30), while seventh and eighth graders will participate on May 31 (rain date: June 1). The track and field meets will be at Larz Anderson Park beginning at 8:30 am. The track and field meet is an excellent opportunity for students to showcase skills learned in physical education classes. In addition to learning skills in class, the students practice either before or after-school prior to the track and field meets. Each year, the events are widely supported by teachers, administrators, parents, and community members. We invite everyone to join us of the 2018 PSB Track and Field Meets.