Superintendent's Update: November 19, 2021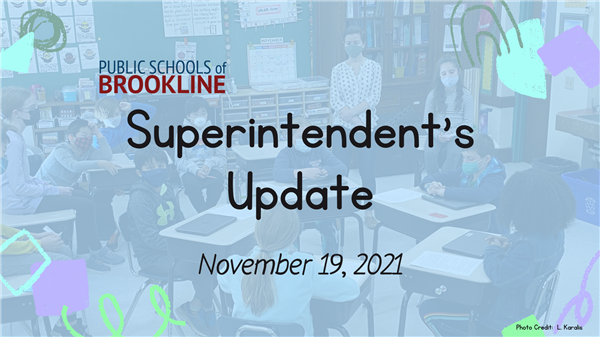 The communication below provides important information from the Public Schools of Brookline. Translated versions are available at the following links:
Welcome to the eve of Thanksgiving break! Since schools and district offices will be closed next Thursday, November 25, and Friday, November 26, the next update will come in December. We definitely have a lot to be thankful and grateful for this year. If you can, I encourage you to share these sentiments with your students, colleagues, friends, and family during the celebrations next week!
Welcome to PSB: Sophya Williams-Louis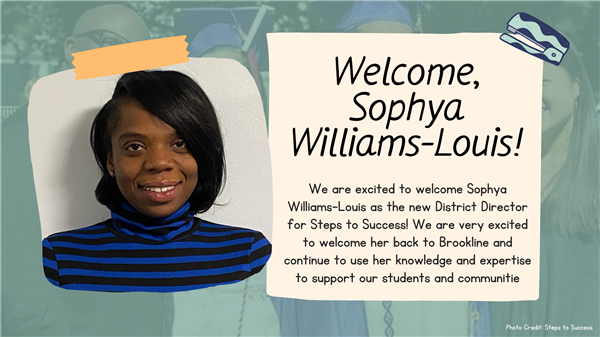 We are excited to welcome Sophya Williams-Louis as the new District Director for Steps to Success (STS). STS is a local non-profit organization that supports low-income families in Brookline and has been a partner with PSB since it was founded in 2001. In her role, Sophya will continue to provide individualized academic support and comprehensive services to students living in public housing, support PSB staff in this endeavor, and continue to facilitate strong collaboration between PSB, Steps to Success Inc., and the Brookline Housing Authority.
Prior to this, Sophya served as Dean of Students for Everett High School, the Steps to Success Program Advisor for the Pierce School, and other positions related to the criminal justice system and community outreach. We are very excited to welcome her back to Brookline and look forward to working with her to support our students and communities. Be on the lookout for her as she visits your school!
Kindergarten Information Sessions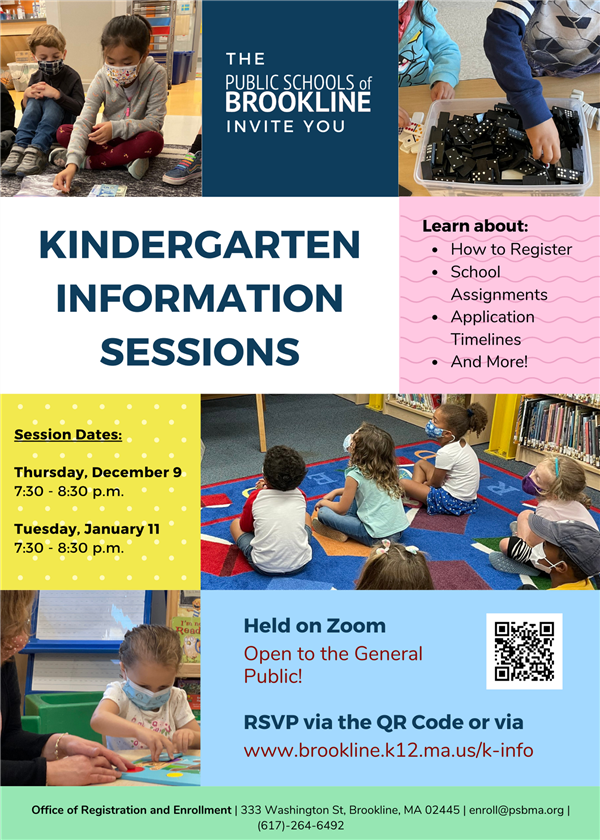 It's almost time for the class of 2035 to arrive! The Office of Registration and Enrollment (ORE) will be holding two information sessions about the registration process over Zoom on Thursday, December 9, and Tuesday, January 11. This is a great opportunity for families to learn more about PSB, the registration process, school options, application deadlines, and connect with other families. These sessions are open to the general public, so please feel free to pass this invitation along to any interested families! You may RSVP for either session here. A special session will be held specifically for current BEEP families on Thursday, December 2. If you have any questions, please do not hesitate to contact the ORE team at enroll@psbma.org.
Holiday Travel Advisory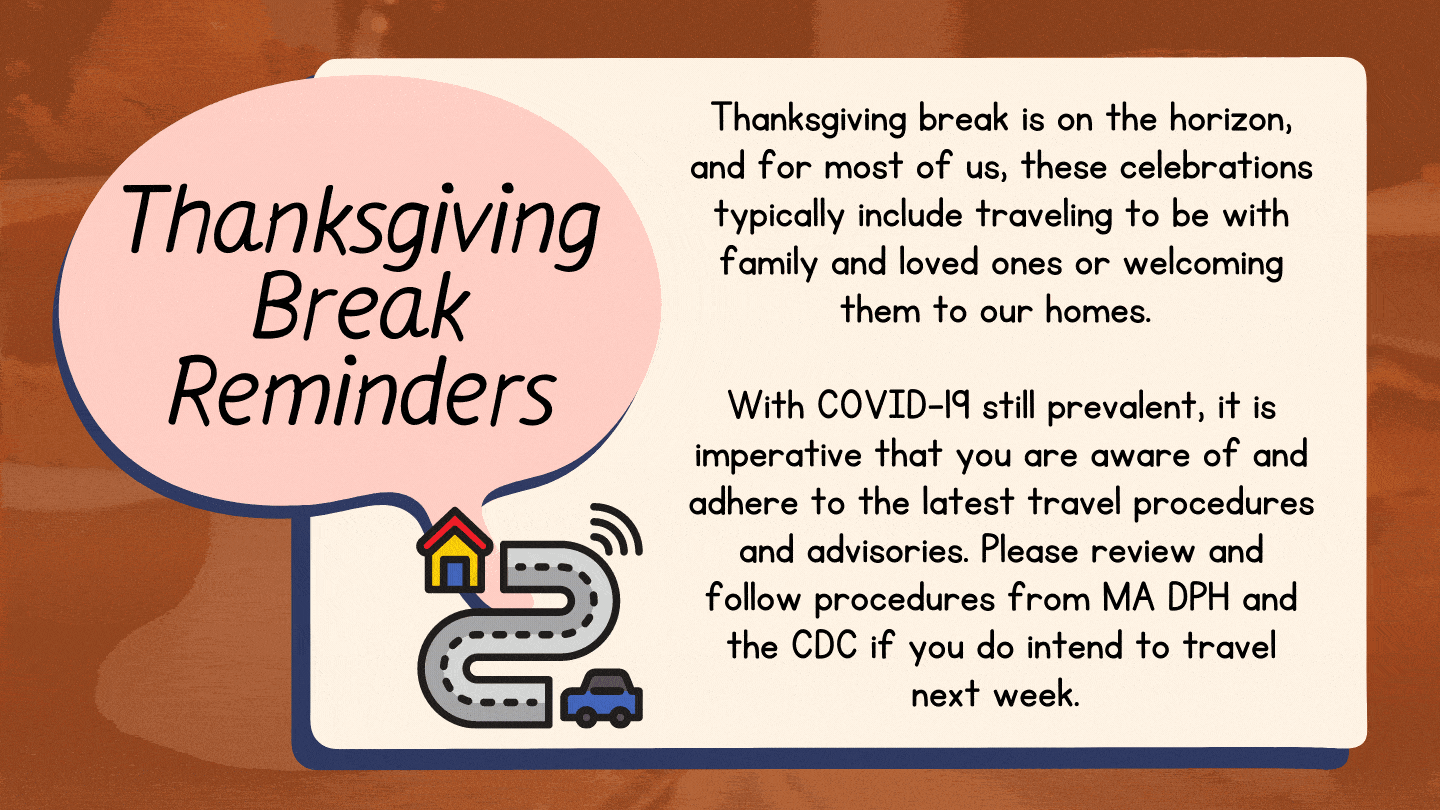 Thanksgiving break is on the horizon, and for most of us, these celebrations typically include traveling to be with family and loved ones or welcoming them to our homes. With COVID-19 still prevalent, you must be aware of and adhere to the latest travel procedures and advisories. Please review and follow the following requirements set forth by the Massachusetts Department of Health and Centers for Diseases Control and Prevention (CDC) if you do intend to travel next week.
Please also adhere to the health agreement that all PSB staff and families signed for this school year. You must continue to monitor for symptoms of COVID-19 and check for fever (100 or higher) daily for everyone in your household. Stay home if you feel ill and keep your children home if they feel ill.
Negotiations Update with the Brookline Educators Union (BEU)
After ten bargaining sessions, representatives of the School Committee and the Brookline Educators Union (BEU) continue to meet and negotiate collective bargaining agreements for PSB teachers (Unit A) and PSB program coordinators, vice principals, and/or other coordinators/directors (Unit B). A progress update with details on the latest proposal made by the School Committee was published this morning.
The School Committee will also be requesting the assistance of a state mediator to help the parties reach an agreement. In past contract negotiations (most recently in 2016), state mediators have worked successfully to facilitate agreements between the School Committee and the BEU. You can review the statement in its entirety here.
UPDATE: METCO Historically Black Colleges and Universities (HBCU) Fair
The Brookline METCO program kicked off their HBCU College Fair on Wednesday evening. 15 HBCU Admission Representatives facilitated info sessions for students, parents, and faculty and will conduct on-the-spot admissions today and Saturday for our scholars. As of tonight, 11 students (8 BHS students, 3 students from other METCO programs) have already received on-the-spot acceptances to at least one HBCU. We are proud of our scholars and look forward to their continued success in the future!
UPDATE: PSB COVID-19 Vaccine Clinics
PSB continues to hold COVID-19 vaccine clinics for our students, staff, families, and community members over the next few months. Our next clinics (Wednesday, December 8 and Tuesday, December 14) are currently full. No appointments are available at that time. PSB is currently looking to make these opportunities more accessible through a variety of options, including expanding opening hours and adding more vaccine sites.

If you have an appointment on one of these dates and you can no longer make it, please be sure to cancel your appointment by emailing info@vaxinaterx.com so that we can open the spot to others. You can also visit https://vaxfinder.mass.gov/ to find a vaccine site near your home. We are very grateful for the tremendous efforts our community has taken to protect themselves and one another!
UPDATE: BHS Fall Athletics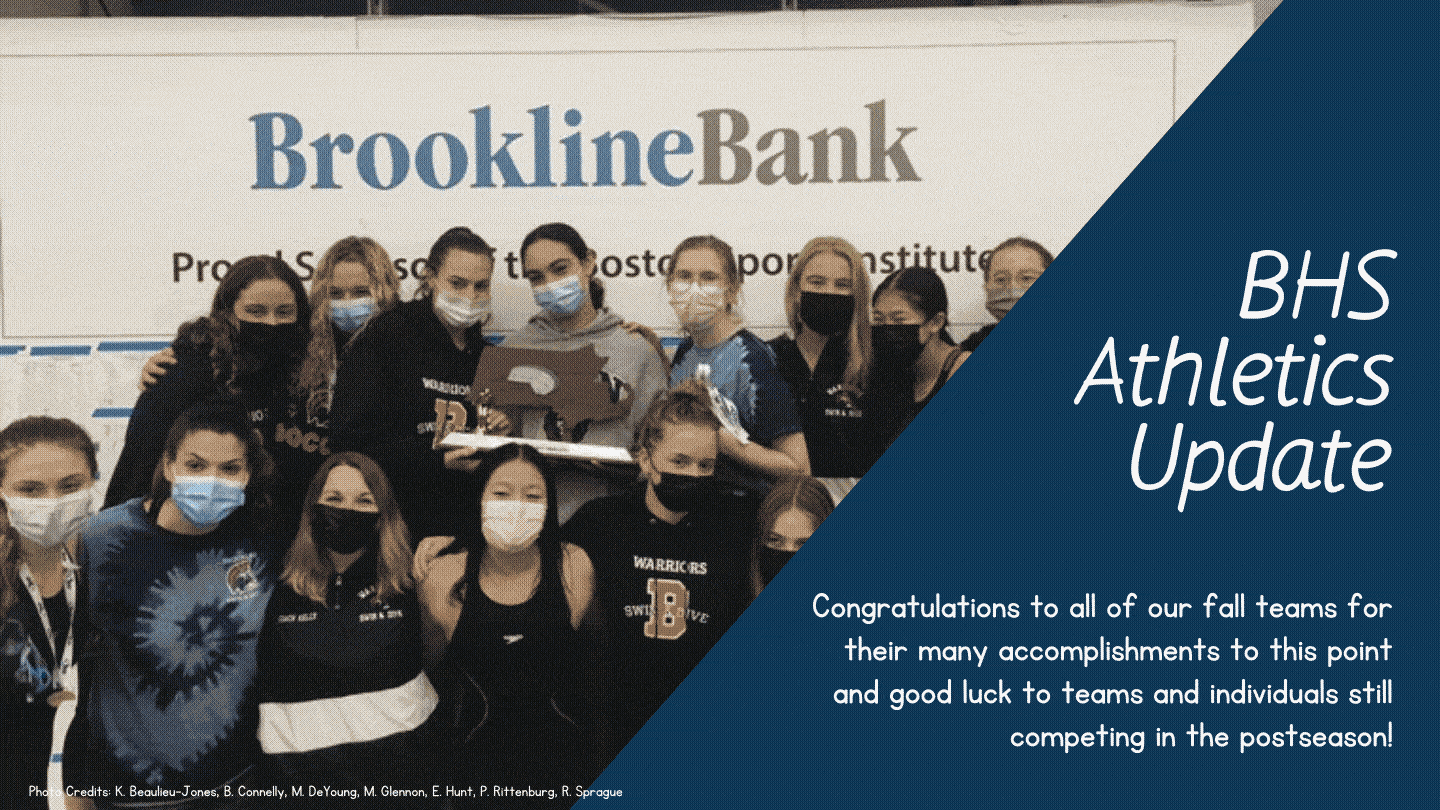 Congratulations to all of our fall teams for their many accomplishments to this point and good luck to teams and individuals still competing in the postseason!
Girls Swimming and Diving scored 264 overall points last Saturday, November 13 to finish second in the MIAA Division 1A State Competition.


Boys' Cross Country won the team title at Saturday's MIAA Division 1A Meet, featuring three top-15 individual finishes. The team will race next in the MIAA D1 State Championships this Saturday, November 20 at Wrentham Developmental Center in Wrentham, MA.


Girls Soccer finished in the Elite Eight in their thrilling playoff run for the MIAA D1 State Championships after a 2-0 loss to Newton South on Wednesday. They end the season with a final record of 14-3-3. Thank you for another terrific season!


Boys Soccer will be playing for the MIAA D1 State Championship on Saturday, November 20 after defeating St. John's Prep last Saturday 2-1 in overtime and Lexington High this Wednesday 1-0. They will be playing Newton North at Manning Field in Lynn, MA. Tickets are $10 for adults, $5 for students & seniors, and must be purchased online.


Finally, congratulations to our BHS Athletic Director Pete Rittenburg on being inducted into the Reading Memorial High School Athletics Hall of Fame!
UPDATE: Driscoll School Building Project
Check out the latest construction news from the Driscoll School Building Project! As a reminder, make sure to stay up to date on the latest in construction news and sign up for weekly updates/notices here.
REMINDER: Grab-and-Go Meals next Wednesday, November 24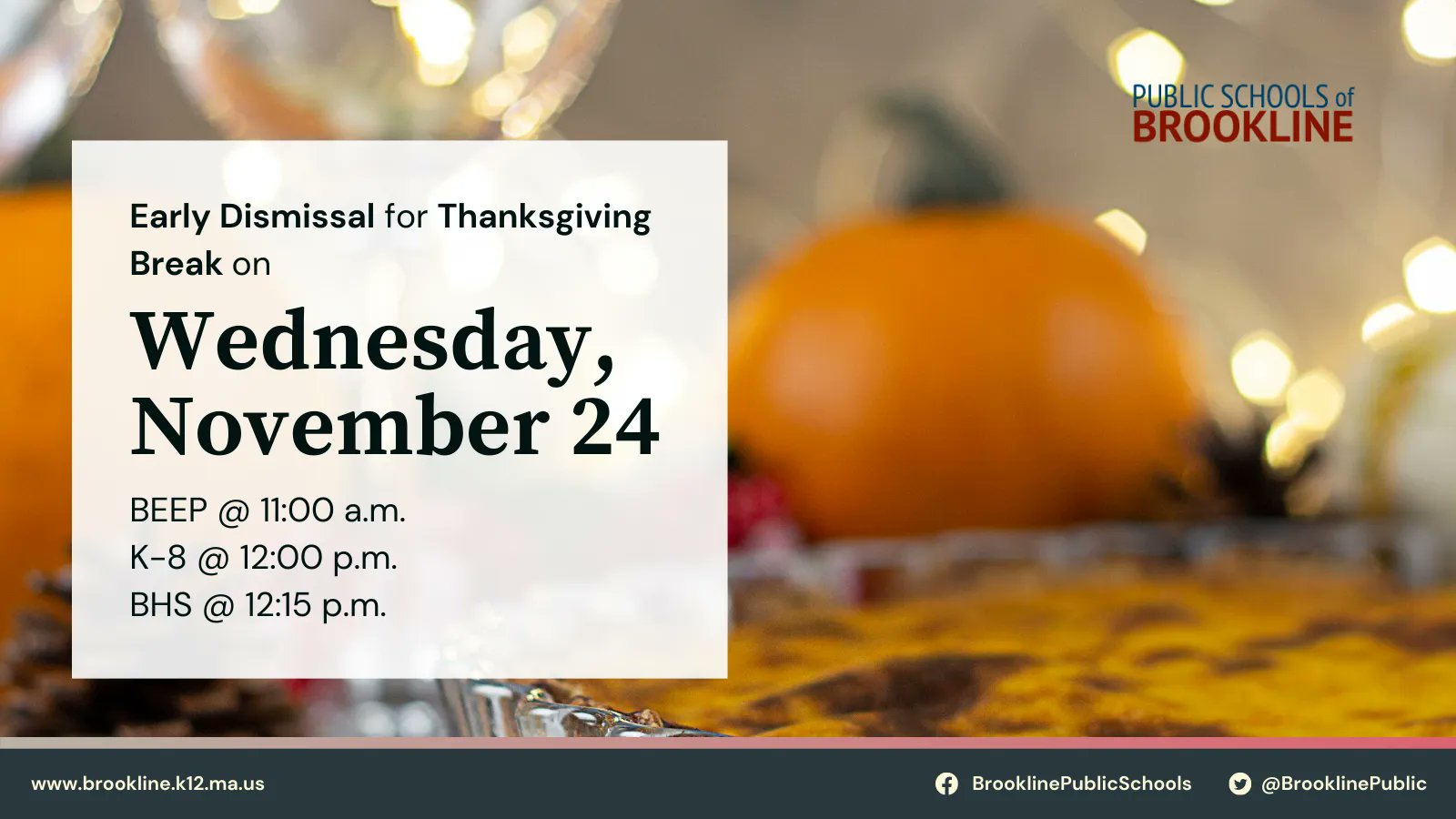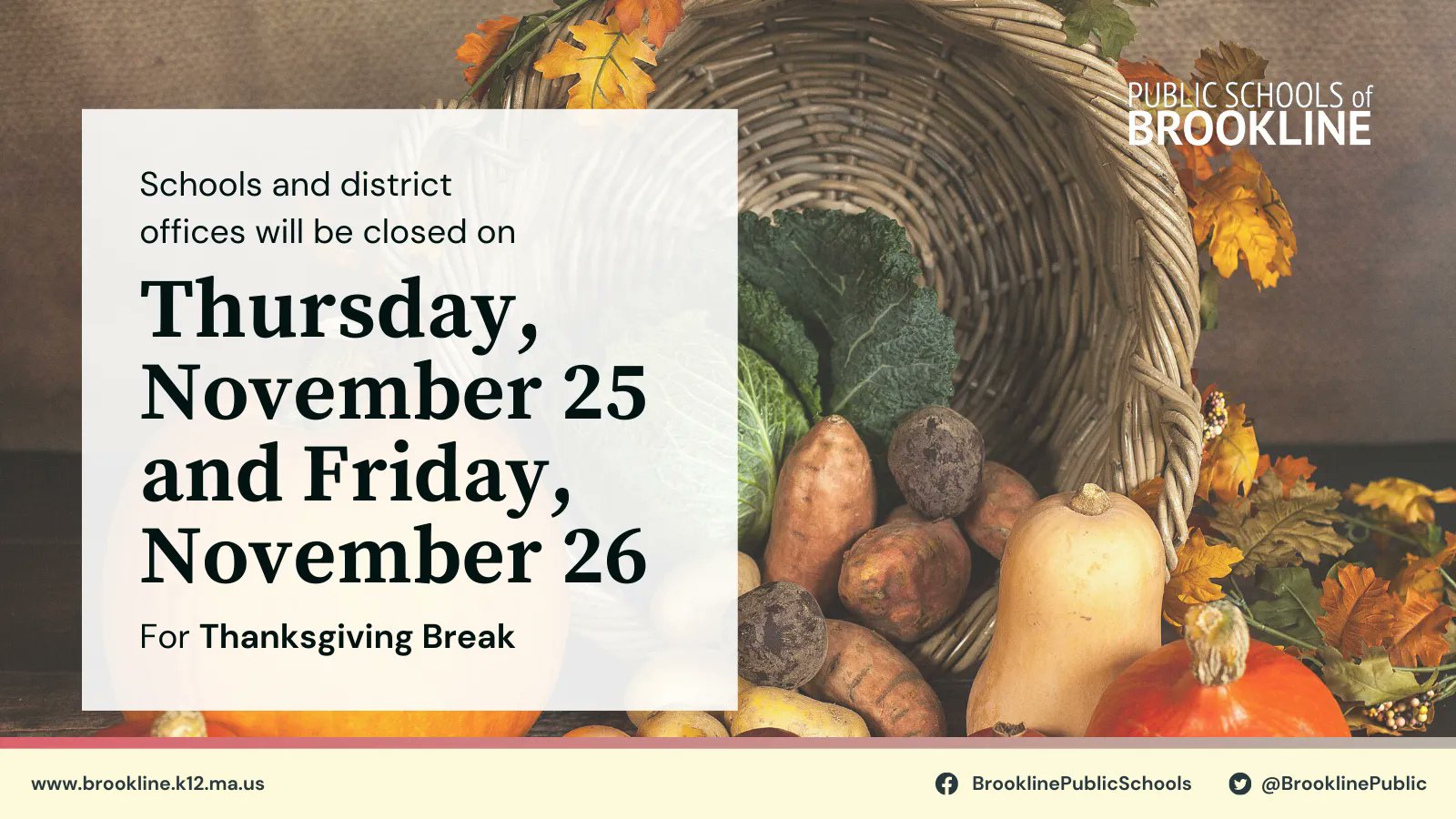 All schools will be serving grab-and-go lunch on Wednesday, November 24. As a reminder, students are dismissed early on 11/24, as follows:
BEEP: 11:00 a.m.

K-8: 12:00 p.m.

BHS: 12:15 p.m.
Families do not have to pre-order a meal ahead of time for pickup; However, BEEP families should visit the LINQ Online Ordering Portal to place a meal order.
Community Happenings
Brookline First Light Celebration: Celebrate with the Brookline Chamber of Commerce this Saturday, November 20 at the First Light Holiday Celebration! This annual Brookline tradition provides a variety of opportunities to celebrate the holiday season with local businesses and groups. Starting at 2:00 p.m., participating businesses will begin their offerings with various performances, activities, giveaways, DIY crafts, and discounts.

Join the community from 4:00 to 5:00 p.m. at the Florida Ruffin Ridley School for puppets, an obstacle course, and live outdoor entertainment. Performances include VOICES Boston, Brookline High School Acappella groups Note-a-fy, Glee Club, Perfect Pitch, and the Brookline High School Camerata Choir! There's something for everyone of all ages to enjoy in this free event! Learn more about First Light here.

Community Thanksgiving Feast: The Brookline Police Association, Rotary Club of Brookline, and Brookline High School will be hosting a community Thanksgiving feast next Tuesday, November 23, 5:30 p.m. at the new science wing at Brookline High School. Please share this news with anyone in the community you think would enjoy an "early Thanksgiving" hot meal or would benefit from a meal with others! Reserve your meal by scanning the QR on the flyer, by calling the Brookline Police Community Service Division (617-730-2248), or by completing this Google Form.
---