Superintendent's Update: December 3, 2021

The communication below provides important information from the Public Schools of Brookline. Translated versions are available at the following links:
Welcome back from Thanksgiving Break! I hope everyone had a refreshing and peaceful holiday. The Jewish holiday of Hanukkah - the festival of lights - started last Sunday evening. Happy Hanukkah to our families and staff who celebrate. This is the season of many festive holidays, including the Winter Solstice, Las Posadas, Christmas, Kwanzaa, and many others, so our best wishes go to all members of our community who will be celebrating in the weeks to come.
We only have a few weeks together before Winter Vacation arrives, so I hope that we take the next few weeks to stay focused, continue taking care of one another, and end 2021 on a strong note!
Gifts to Teachers and School Staff: MA Ethics Commission
Every year, we remind parents and guardians about the Massachusetts Ethics Commission rules regarding gifts to public employees, including teachers and school staff. For your reference, we have created a summary of the ethics commission regulations, available here.
In an effort to improve the quality of our school meals, BHS Food Service and Brookline High School students will be participating in the Culturally Relevant and Inspiring School Professionals (CRISP) project. This program study is being conducted by the Massachusetts Department of Elementary and Secondary Education (DESE), the John Stalker Institute, and Framingham State University.
Over the next few months, BHS Food Service workers will receive culinary training and participate in various workshops on preparation, cooking, service, and clean-up. During this time, BHS students will also be invited to submit their feedback during lunch periods. Student participation in this project is completely voluntary and anonymous. BHS families will receive more information on this study in a separate email sent later today.
UPDATE: COVID-19 Mitigation Strategies
The PSB community saw an uptick in positive COVID-19 cases and close contacts this week following Thanksgiving Break. We encourage you to continue to practice healthy habits and to monitor for symptoms of COVID-19. Check for fever (100 or higher) daily for everyone in your household, stay home if you feel ill and keep your children home if they feel ill, and get all members of your family vaccinated if possible.
Omicron Variant:

As you are aware, a new variant of the COVID-19 virus known as "Omicron" was recently identified by the Centers for Disease Control and Prevention (CDC). PSB Health Services and the Brookline Health Department are continuing to monitor for any updates and information regarding this variant and will update our procedures and strategies in response if needed.

As of today, there have been no changes or new restrictions to our COVID-19 mitigation strategies and procedures.



Student COVID-19 Vaccination Data:

We are happy to report that 89% of PSB students ages 12-18 have been fully vaccinated against COVID-19 as of November 19. More comprehensive data, including the percentage of younger students that have received their first dose of the vaccine, will be available in the coming weeks. For reference, the Pfizer 2-dose COVID-19 vaccine was first approved by the CDC and FDA for children ages 12-17 on May 10, 2021, and for children ages 5-11 on November 2, 2021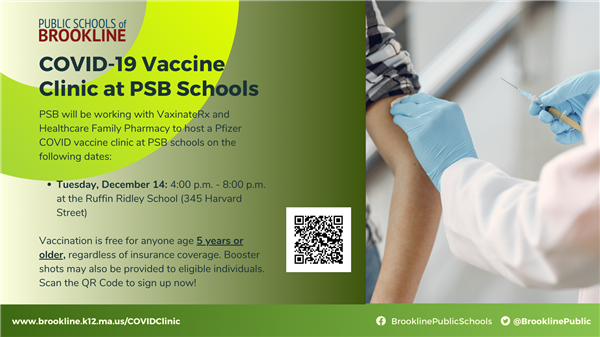 Vaccination Clinics:

PSB will be hosting another COVID-19 Vaccine Clinics on

Tuesday, December 14

at the Ruffin Ridley School

.

All PSB staff, families, students, and community members may sign-up. Individuals may also receive their booster dose at this clinic should they be eligible.

Click here to register.

Upcoming BHS Performing Arts Events
The BHS Performing Arts Department is excited to announce several performances from our students over this holiday season. We are incredibly proud to see our students working together in-person once more and performing onstage after a period of rest during the pandemic. Check out some of these events happening this month:
Saturday, December 4:

Revisions

, a variety show directed by BHS dance teacher Mayra Hernandez and BHS librarian Bridget Knightly featuring student-led works of drama, dance, music, and many other talents! Performances will be held in the Tappan Gym Building at 3:30 p.m. and 7:30 p.m.


Friday, December 17:

The BHS Winter Concert,

a massive end-of-year celebration of music from all of BHS' choral, band, and orchestra classes! More details to follow over the next few weeks.



All tickets and information can be found and purchased at https://www.brooklinefopa.org/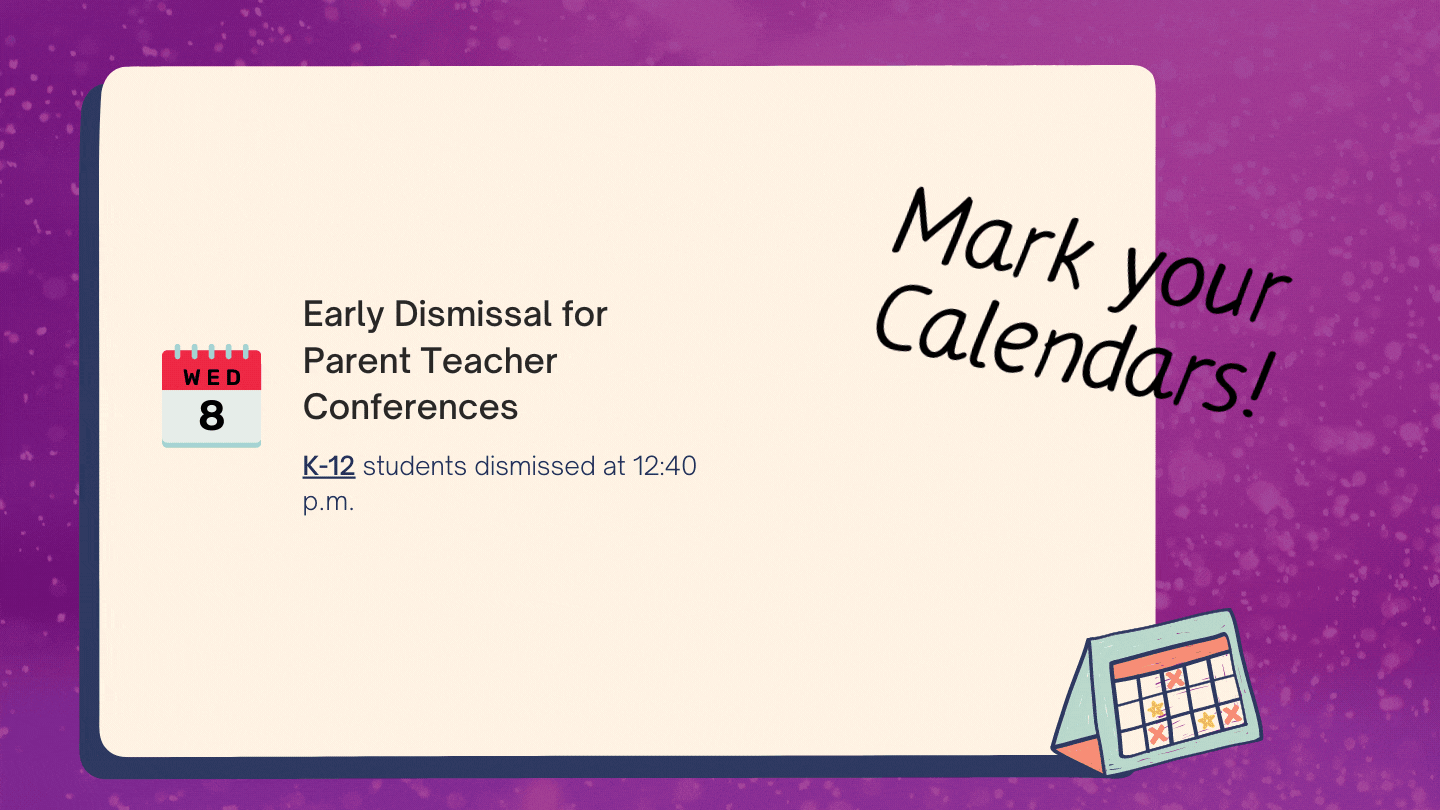 A reminder that all K-12 students will be dismissed early next Wednesday, December 8 at 12:40 p.m.
Lincoln:

T

o show the true scope, sequence and scale of space, each of Ms. Zobel's 8th grade science classes created an outdoor model of the Solar System using various objects to scale!

If you catch yourself walking along Walnut Street or Chestnut Street, or around the Brookline Reservoir, be sure to look out for a sign along the way - you might find yourself embarking on a fun tour to learn more about the sun and each of our eight planets!

Click here for a map of all three solar system walks.
Toys for Tots Toy Drive:

The Brookline Police Department and Brookline Fire Department have partnered with the USMC Toys for Tots campaign to collect new and unused toys that will be distributed to children in need. From now until Thursday, December 9, please visit the Brookline Public Safety Headquarters (350 Washington Street) or Brookline Fire Station 6 (962 Hammond Street) to drop off a toy in the collection bin. Collections will be accepted between 8:00 a.m until 8:00 p.m. Please help our town spread some holiday cheer during this season of giving!
---