Superintendent's Update: December 10, 2021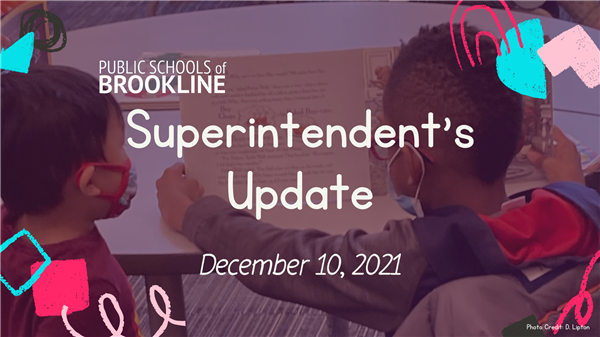 The communication below provides important information from the Public Schools of Brookline. Translated versions are available at the following links:
Greetings PSB Families and Staff,
As we navigate through a school year of change and adjustment, I have been consistently inspired and humbled by the work done in our schools and classrooms. The roots of your generosity, compassion, and efforts are embedded within the day-to-day work of our students.
At PSB, we continue to practice a culture of care that runs through and into our students, our families, and our staff. I hope that you and your students continue to practice the social-emotional learning habits, strategies, and lessons we have emphasized over the past few months. Setting healthy boundaries, slowing down, and making time and space for themselves are just a few of the ways that we can support and uplift each other - and ourselves! I hope that you continue to reflect and discover your tools and resources to use amidst times of stress.
Sincerely,
Linus J. Guillory Jr., PhD
Superintendent of Schools
Table of Contents
Winter Weather Update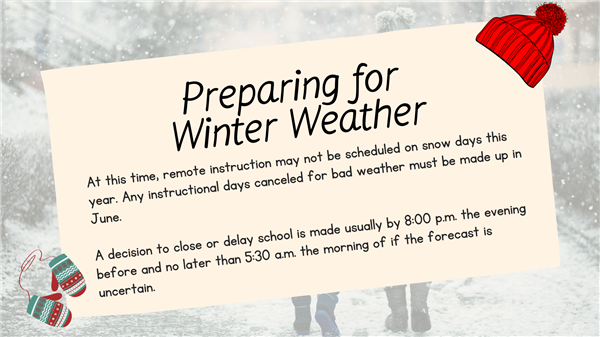 With the winter months upon us, I want to take this opportunity to inform you of the procedures we will follow in the event of a snowstorm or other inclement weather. Last year, PSB elected to "pivot" to remote instruction during snow days and other instances when the Town of Brookline Department of Public Works determined that in-person attendance at school is not possible due to the weather. The Massachusetts Commissioner of Education has advised school districts that, at this time, remote instruction may not be scheduled on snow days this year. Any instructional days canceled for bad weather must be made up in June.

A decision to close or delay school is made usually by 8:00 p.m. the evening before and no later than 5:30 a.m. the morning of if the forecast is uncertain. Once the decision is made, we notify our media partners, post the information on our website, post a message on our Twitter and Facebook accounts, and send the notification directly to our families and staff via automated phone calls and emails. You can learn more about the process here.
On the Oxford Hills High School Shooting
As you are aware, four students were killed and seven individuals were injured in a school shooting last Tuesday in Oxford, Michigan. News of this tragedy undoubtedly roused many strong emotions within our students and ourselves. As we process this event, it is important to remember that we are likely to experience several feelings (and that there is no "right" way to feel). Our collective sadness, anger, and grief all remind us that these acts - despite their infrequency - are unnatural and inhumane. In this time, we must remain compassionate, caring, understanding, and dedicated to keeping one another safe.
I encourage our community to respond to this tragedy by addressing both the physical and mental safety of our community. We work closely with school leaders and the Brookline Police Department (BPD) every year to review and refine our emergency procedures. We continue to practice a culture of care with our students, staff, and families to support our collective well-being. If you believe that your child or student needs to check-in with an adult about this event, please reach out to their school-based team. We have also included some resources that you may find helpful:

GreenZine Brookline Blog
Check out the GreenZine Brookline blog! GreenZine Brookline is collectively run by PSB educators and offers the Brookline community a forum on climate change, outdoor education, and the environment. Students, families, staff, and community members can all submit news, opinion, and other pieces of creative expression on this subject. In addition, the site highlights the excellent work and projects planned and completed in our school community.


K-12 students can use Greenzine Brookline to amplify their voices and spark a conversation about climate change and outdoor education in our schools. It is our hope that through this forum, our students will be more resilient and prepared to lead in a climate-disrupted world. If you are interested in contributing, please email greenzinebrookline@gmail.com to learn more.

Brookline Mock Caldecott Contest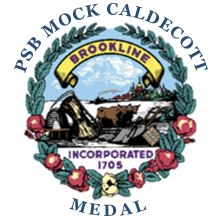 Librarians from each PSB K-8 school invite students and families to participate in a Mock Caldecott contest. Based on the real-life Caldecott Medal (considered the highest achievement for picture book illustrators in the US), PSB students will learn how to judge picture books according to the criteria set by the American Library Association. Students will then work with their educators to read and discuss ten possible winners published in 2021. After this careful consideration, students will have a chance to vote for their favorite; The book with the most votes will win the prestigious Brookline Mock Caldecott Award in January. Check out their website to learn more!
Join the Brookline Safe Routes To School Task Force!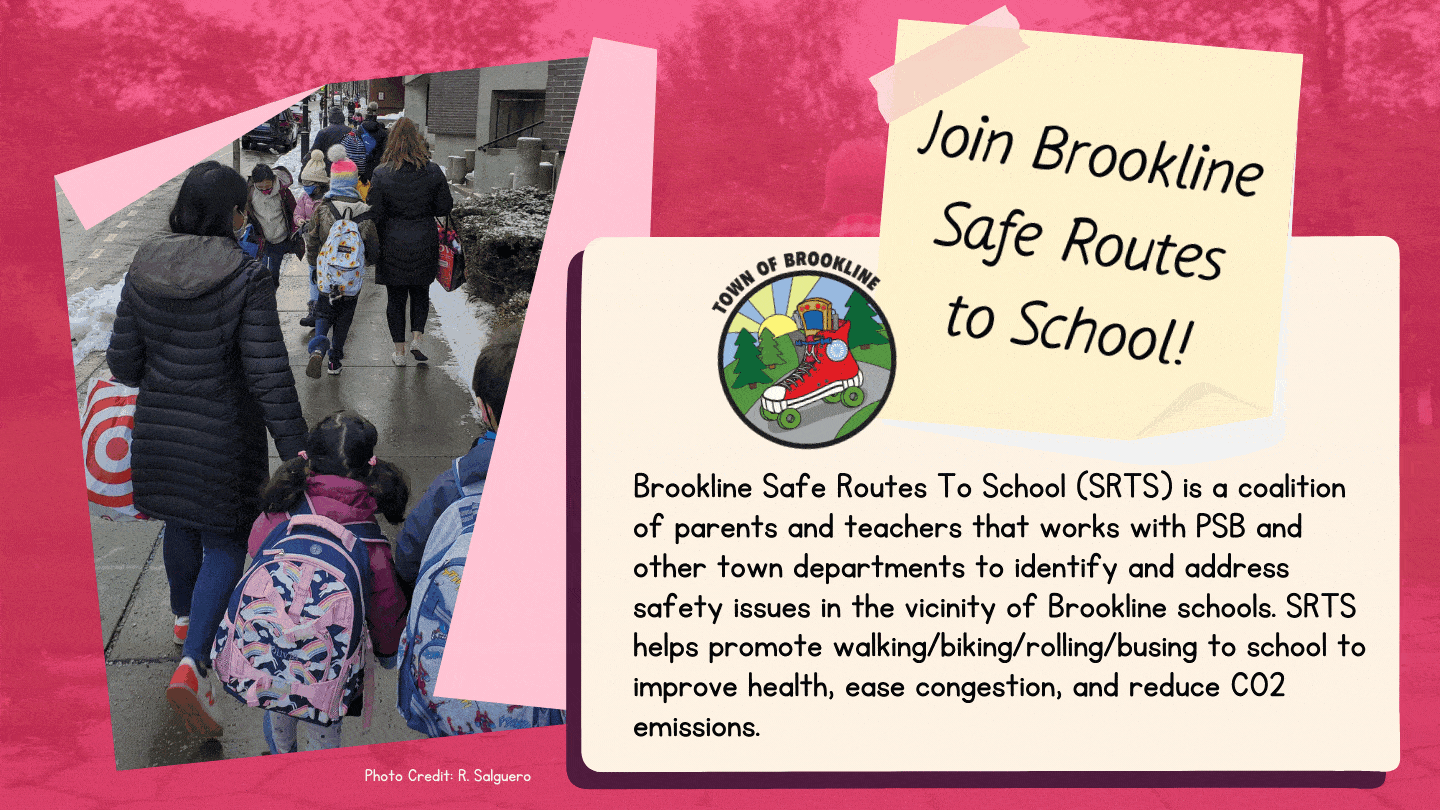 Brookline Safe Routes To School (SRTS) is a coalition of parents and teachers that works with PSB and other town departments to identify and address safety issues in the vicinity of Brookline schools. SRTS helps promote walking/biking/rolling/busing to school to improve health, ease congestion, and reduce CO2 emissions.

SRTS is currently in particular need of parent reps from Lawrence, Ruffin Ridley, and BHS! Being a parent rep isn't a big-time commitment but can be a great way to contribute to your school community. In this role, you will also serve as a liaison between your school PTO, admin, and the greater community to bring concerns relating to safety, walking, biking, congestion, etc to the attention of the town. Please contact Rebeca Salguero or Gareth Lawson if you would like to learn more.
Mark Your Calendars!


Community Updates
---