Superintendent's Update: December 17, 2021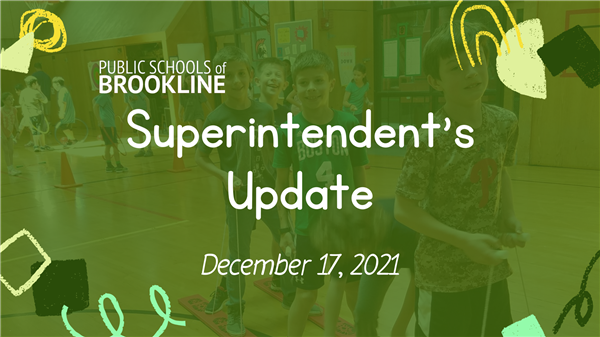 The communication below provides important information from the Public Schools of Brookline. Translated versions are available at the following links:
Greetings PSB Community,
Earlier this morning, an eight-alarm fire broke out at a building on Corey Road in Brighton. Both Boston and Brookline Fire Departments immediately responded to the scene and informed our district and school leaders of the situation. With their consultation, we ultimately decided to close the Driscoll School today due to the residual smoke from the fire that severely impacted the air quality around the surrounding neighborhood.
The fire has now since been extinguished and the area declared safe. We are also pleased to announce that all Driscoll students and staff received our alerts. HEPA filters have been running all day in each classroom and throughout the building to filter out the smoke. The school will be ready to receive students on Monday.
I would like to thank Acting Deputy Chief of the Brookline Fire Department Pat Canney and our town partners for supporting us during this incident. I also want to thank Principal Youkilis, the Driscoll staff, and the Driscoll PTO for their swift response and subsequent communication with our families and staff. In addition, I want to thank METCO Director Dr. Keith Lezama and his team for arranging an impromptu pick-up location at Town Hall for our METCO students who were en route to Driscoll at the time of the announcement. Finally, a special shoutout to Matt Gillis, our Director of Operations and Facilities, for arriving on-site to coordinate safety and air quality readings with district leaders and the Driscoll construction team.
We recognized that the Driscoll community missed a day of instruction; we have reached out to the Massachusetts Department of Elementary and Secondary Education (DESE) to inquire about scheduling a make-up day. We will provide more guidance on this matter soon.
This morning's quick action is an example of how all of us have a role to play in ensuring the safety of our students, staff, and families. Ultimately, safety is about the strength of our community - how we take care of each other, communicate with each other, and the relationships we build within and outside of our school. I am incredibly grateful and appreciative that the Driscoll community has fostered such bonds so that all of us are prepared to act quickly and appropriately in response to these emergencies.
Thank you again for your attention and support, and we look forward to welcoming everyone back to school on Monday.
Sincerely,
Linus J. Guillory Jr., PhD
Superintendent of Schools
---
Table of Contents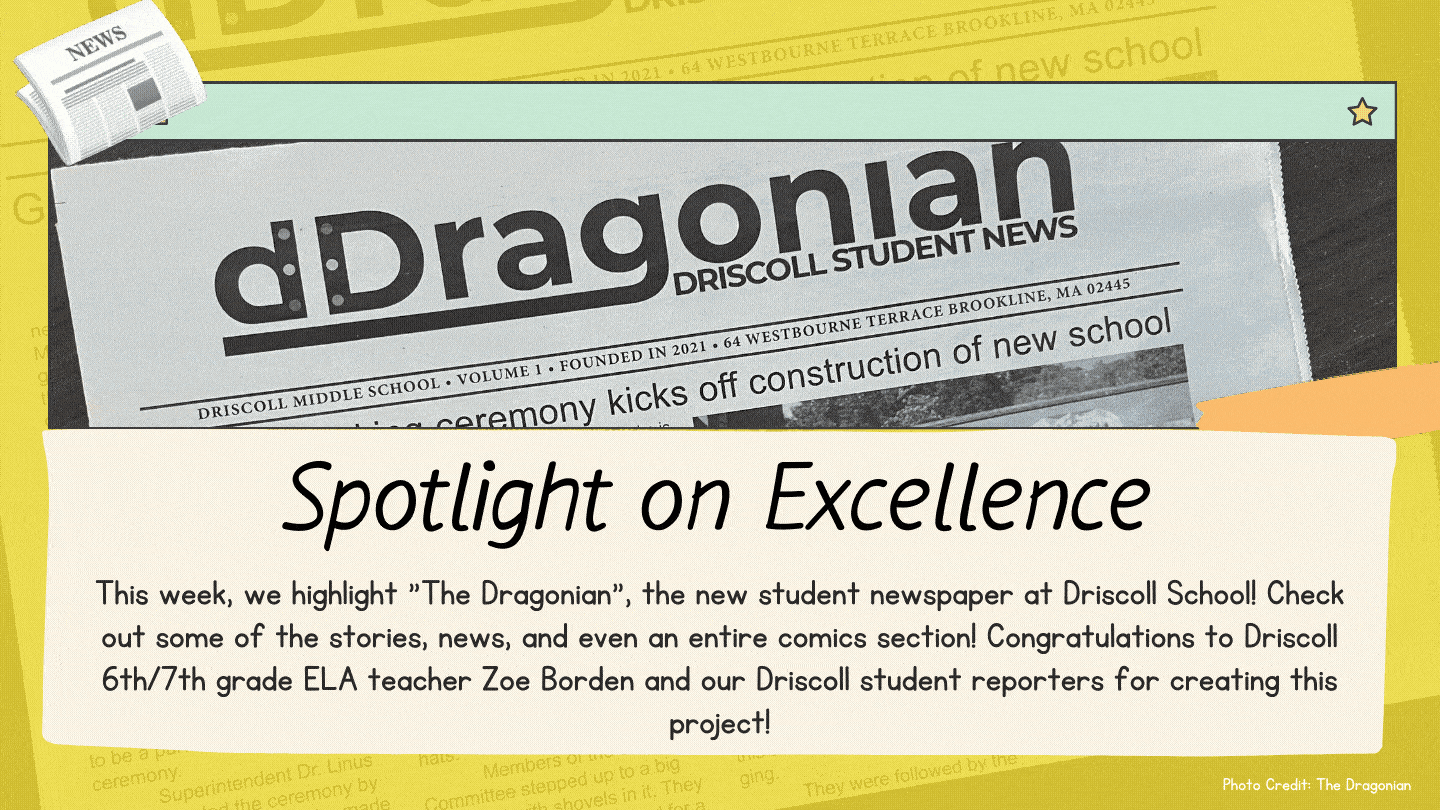 This week, we shine the spotlight on an exciting initiative at Driscoll School: the new student newspaper, The Dragonian! With various stories, news, and even an entire comics section, the creation of The Dragonian has been a real community effort. In fact, the newspaper was seeded with funds raised from last year's 8th-grade class. The Dragonian has already printed a very successful and professional first edition with more issues on the way. Congratulations to Driscoll 6th/7th grade ELA teacher Zoe Borden and the talented Driscoll student reporters for creating such a great school newspaper.
At their meeting last night, December 16, the School Committee approved district calendars for the next two school years: 2022-2023 and 2023-2024.

Both calendars are now posted on our website

.



The first day for students in grades 1-12 next year will be Tuesday, September 6, 2022.

High school families may notice that, unlike prior years, all high school students will start on the same day. The high school team will be reaching out with more information about this change, as well as the orientation activities planned for 9

th

graders next year in their new space at 22 Tappan Street.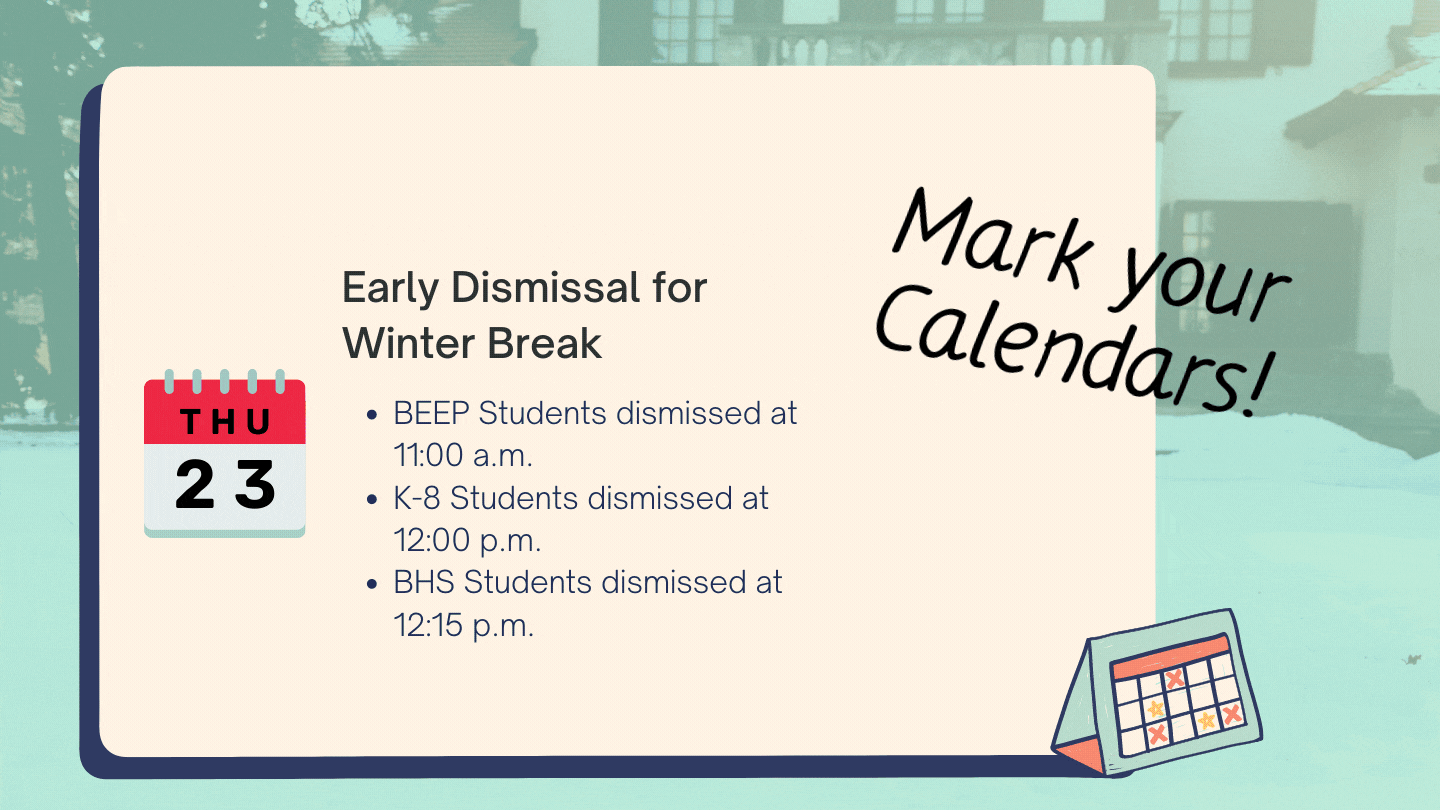 Winter Break begins next week! As with our Thanksgiving Break, all schools will be serving grab-and-go lunch on

Thursday, December 23

. As a reminder, students are also dismissed early that day at the following times:





BEEP: 11:00 a.m.

K-8: 12:00 p.m.

BHS: 12:15 p.m.
Families do not have to pre-order a meal ahead of time for pickup; However, BEEP families should visit the LINQ Online Ordering Portal to place a meal order.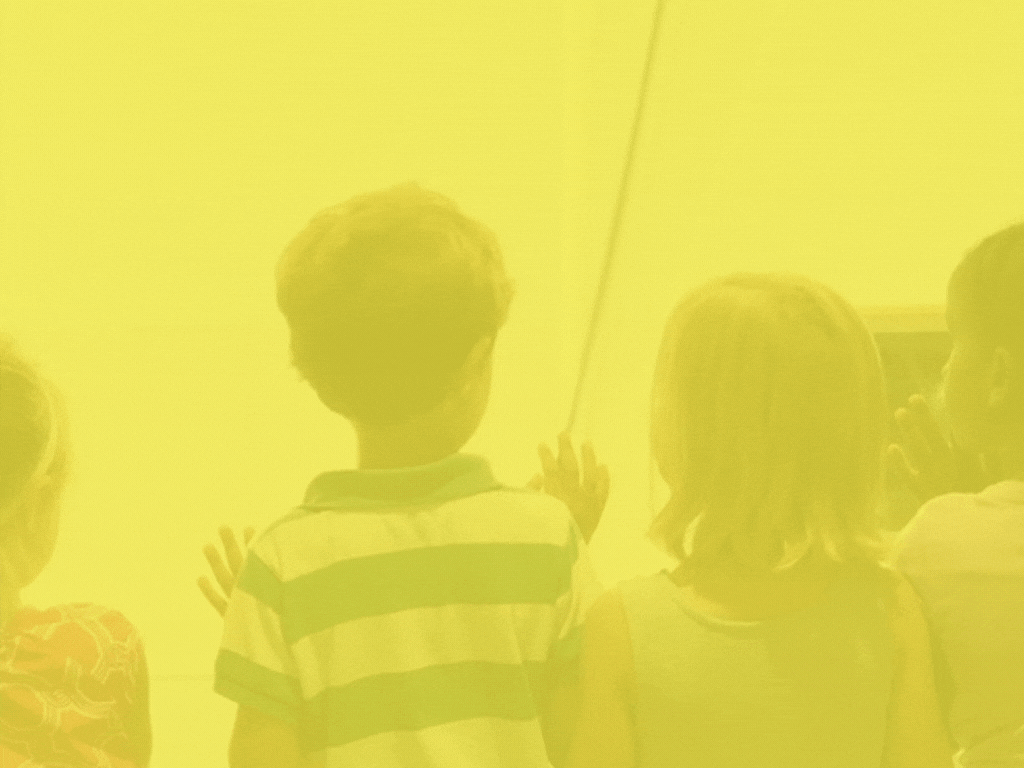 As part of our continued focus on social emotional learning (SEL) this year, the Office of Equity and Office of Student Services will provide a weekly snapshot of a district-wide equity and SEL practice, called the Equity and SEL Minute. In this week's Equity and SEL Minute, we want to highlight some important reminders ahead of the holiday season:
Many students and educators welcome the holiday season and the break it brings from instruction, testing, and homework from a busy fall. But the holidays can also be a lonely and stressful time for people, particularly for those who have experienced loss or other hardships. During this time, it is important that we collectively remind ourselves that there is no "right way" to feel.
Taking care of ourselves and recharging our emotional batteries during this time of year is really important. For many people, that work will involve practicing self-compassion, accessing social connections and relationships, engaging in enjoyable activities, giving to others, and actively reflecting on the last year. This time is also an opportunity for us to learn more deeply about the diverse traditions, events, and holidays that many of us celebrate during the winter. We encourage staff and families to access this link to learn more together about the winter holiday and other cultural traditions.
During these weeks, we often greet one another with "Happy Holidays." We encourage each of us to do this as a way to be inclusive in wishing each other well and showing that we respect and value whatever tradition another person might observe.
UPDATE: COVID-19 Mitigation Strategies
Last week, the CDC expanded its booster recommendation and encouraged all individuals 16 years old or older to receive a booster COVID-19 vaccine. We continue to emphasize the importance of getting vaccinated and maintaining healthy habits (staying home if you're sick, masking, hand-washing, distancing) to protect our community from COVID-19. We have also provided more details to our student vaccination numbers below (first published in our December 3 update):
PSB Student Vaccination Data

(Numbers as of December 17, 2021)

Grade Level

Enrollment

Fully Vaccinated*

Percentage

7th

551

483

87.7%

8th

515

456

88.5%

9th

546

492

90.1%

10th

511

470

92.0%

11th

490

446

91.0%

12th

517

470

91.0%

Total

3130

2817

90.0%

* Using data from MIIS and info shared by parents. There may be international students or out of state who are not included in vaccine numbers.
As always, you can visit https://vaxfinder.mass.gov/ to find a vaccine site near your home.
With Winter Vacation beginning next week, we want to remind you of the COVID-19 travel advisory and precautions you should take during this holiday season. Most of our celebrations around this time of the year include traveling to be with family and loved ones or welcoming them to our homes. With COVID-19 still prevalent, you must be aware of and adhere to the latest travel procedures and advisories. Please review and follow the following requirements set forth by the Massachusetts Department of Health and Centers for Diseases Control and Prevention (CDC) if you do intend to travel next week.

Please also adhere to the health agreement that all PSB staff and families signed for this school year. You must continue to monitor for symptoms of COVID-19 and check for fever (100 or higher) daily for everyone in your household. Stay home if you feel ill and keep your children home if they feel ill.


Negotiations Update with the Brookline Educators Union (BEU)
On Tuesday, December 14, the Brookline School Committee and the Brookline Educators Union (BEU) received notice from the Massachusetts Department of Labor Relations that they are taking jurisdiction of their request for mediation. Both parties are to continue negotiations and report their progress by late January 2022. We look forward to engaging in further meetings with the School Committee and the BEU over the next few weeks.
Brookline Education Foundation: Teacher and Collaborative Grants Open

Since 1981, the Brookline Education Foundation (BEF) has provided more than $5 million to support excellence and innovation in all PSB Schools, from preschool through grade 12. The BEF is excited to officially open applications for this year's Teacher and Collaborative Grants. These grants should support excellence and innovation in teaching and cover work to be done either over the summer of 2022 or the 2022-23 school year. All PSB educators are encouraged to apply and submit an application by March 7, 2022. Click here to learn more!
At yesterday's School Committee meeting, each of PSB's senior leaders shared some important updates on their 2021-22 school year goals for their respective departments. We want to highlight two announcements in particular; the Special Education Program Review (more information to come on Monday, December 20 for our families with students receiving special education services), and the Brookline Educators for Educational Diversity team. You can review the entirety of each department's updates here.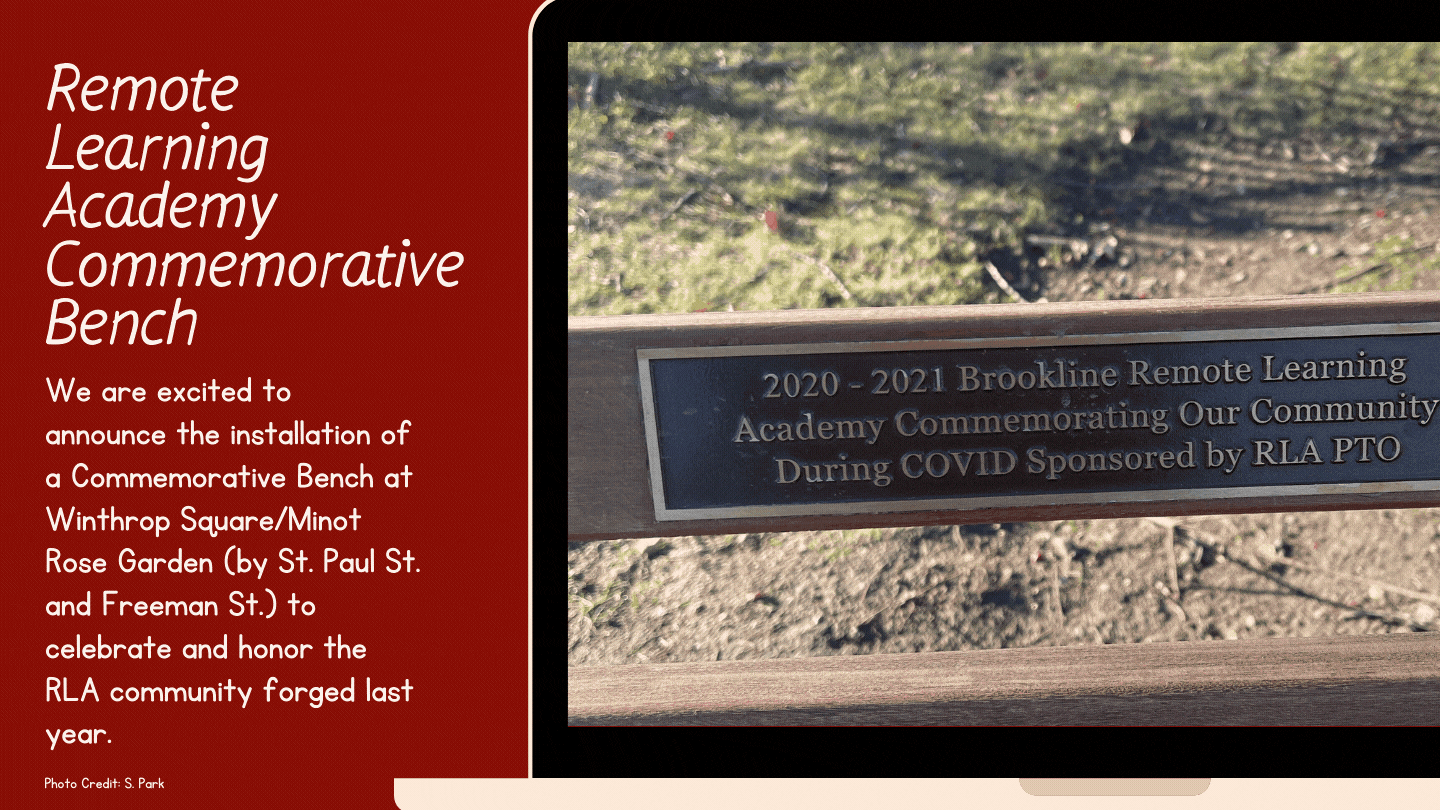 Remote Learning Academy (RLA):

During the 2020-21 school year, PSB offered families a fully-remote learning experience through the Remote Learning Academy (RLA). While the RLA has since been dissolved, its traditions and culture endure to this day. We are excited to announce the installation of a

Commemorative Bench at

Winthrop Square/Minot Rose Garden (by St. Paul St. and Freeman St.)

to celebrate and honor the community that was forged last year. Special thanks to the RLA PTO for sponsoring this fundraising project last year to raise money for this bench and the nine rose bushes (representing the nine grades at RLA) planted around the park as well.
---