Superintendent's Update: January 7, 2022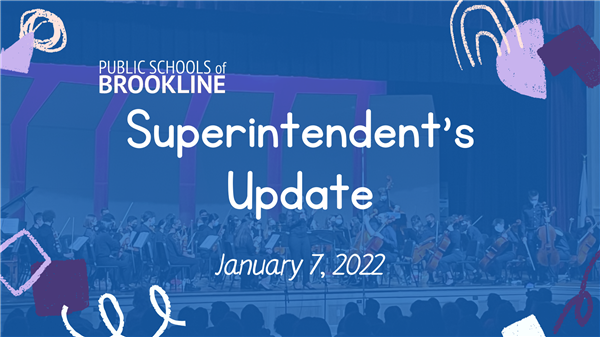 The communication below provides important information from the Public Schools of Brookline. Translated versions are available at the following links:
---
Table of Contents
Health Update: Updated Contact Tracing Protocols
Please review the following message from PSB Student Health Services coordinator, Tricia Laham:
"Due to the intensely rising demands on our health office during this surge, school nurses will not be able to conduct contact tracing on all cases. During the surge, we will prioritize contact tracing in our unvaccinated or partially vaccinated grades, completing contact tracing to the extent feasible.
Contact Tracing during COVID-19 Surge Protocol
When feasible, we will alert families and staff if they have been identified a close contact.
When contact tracing is not feasible, we will notify the classroom or grade (and staff) that there was a positive case in the class and advise families and staff to actively monitor for symptoms and to stay home if symptoms develop.



Nurses will have a list of complex medical needs individuals and will notify them when indicated.



The Department of Elementary and Secondary Education's (DESE) updated guidance allows schools to recognize at-home rapid antigen tests. Local Boards of Health are not required to contact trace on non-PCR confirmed cases (at home rapid antigen tests).
DESE has stated that in order to further assist with contact tracing, Covid-19 positive student/family and staff should reach out to their personal contacts as well as notify the school. The school should also support contact tracing efforts within the school to the extent feasible.
Please refer to the attached updated COVID-19 protocols.
Test and Stay will continue for those eligible, only if we have a signed consent on file. (Fully vaccinated are not allowed to participate, per DESE). Please sign up CIC Health consent portal here, even if you believe you already have one. Any student for whom we don't have signed consent will be sent home to complete their 5 days of quarantine."
A new year means the start of another season of spotlighting the best of our students, staff, and PSB community! This week, we celebrate the work of Baker students and their initiative for equitable access to menstrual products. Last spring, eleven middle school students started regular meetings with Principal Lewis to discuss the inadequacy and stigma around the availability of menstrual products for students at Baker School. The students outlined the barriers to access to these products and made concrete suggestions for improvements. Their advocacy dovetailed with the district's plan to provide these products in all schools throughout the district. We are grateful for their advocacy in getting this started at Baker School, and we are pleased to share that free menstrual products will be placed in key restrooms in all of our schools by the end of this month (barring any additional supply chain delays).
This week we also celebrated the 2021 Boys Varsity Soccer Team with the Spotlight on Excellence Award. In a thrilling double-overtime victory, the team beat rival Newton North for the MIAA Division 1 State Championship. With so many talented teams in the division, it is a testament to their incredible teamwork and determination that they emerged victoriously. It was a pleasure to welcome the entire team to this week's School Committee meeting for the presentation. Go Warriors!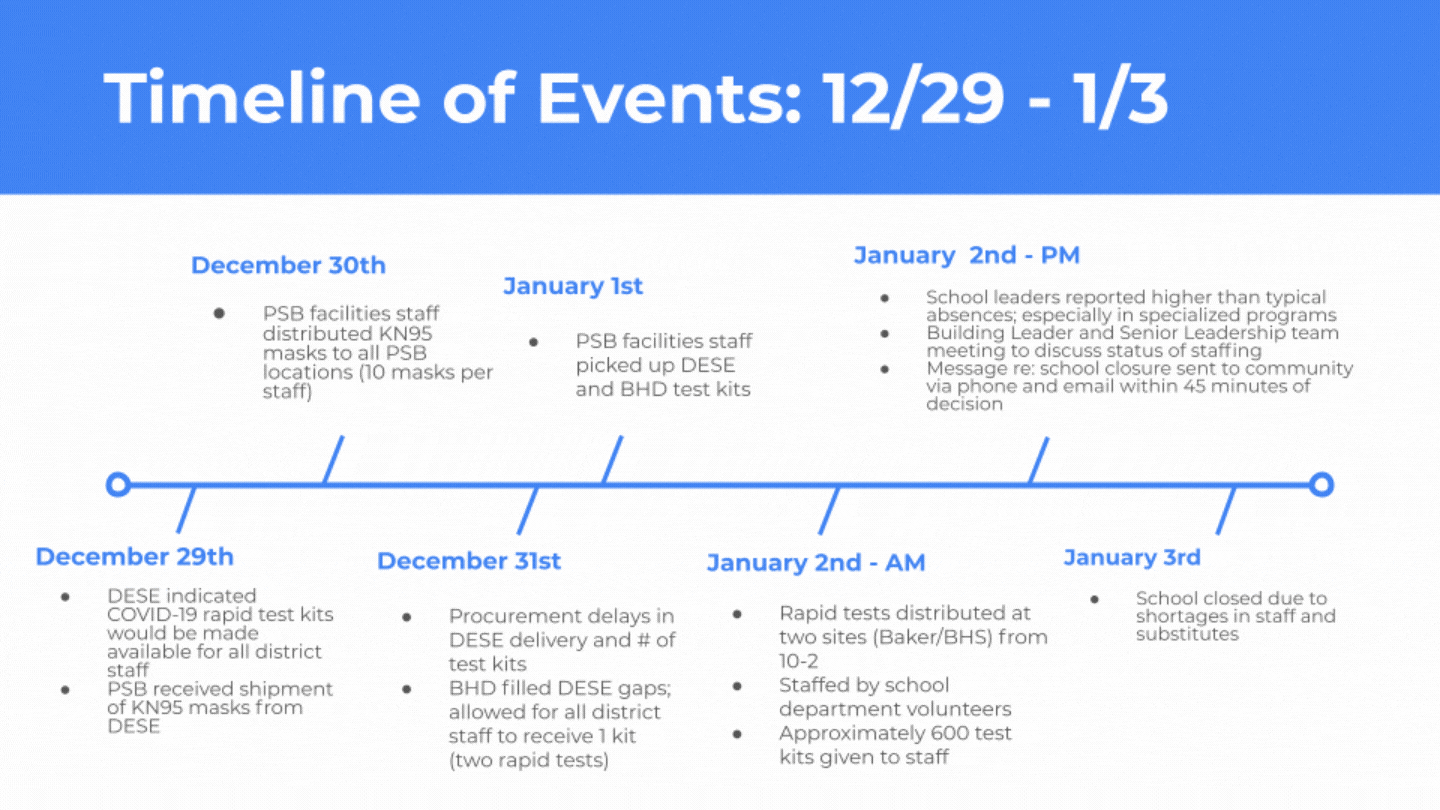 With so many different moving pieces and last-minute changes happening this week, we wanted to provide a timeline of events that involved PSB, the Town of Brookline, and the Massachusetts Department of Elementary and Secondary Education (DESE). We hope that this summary, as described in the Superintendent's Report at the January 6th School Committee meeting, will provide some clarity and context over the events that occurred this week, as well as a brief overview of the resources and materials we've received to protect our community against COVID-19.

REMINDER: Special Education Program Review
As part of Dr. Guillory's strategic plan, PSB has contracted with two external consultants to conduct a review of Brookline's special education program. PSB parents/guardians with students in Special Education are encouraged to participate in a virtual focus group with these consultants. Both the session on Tuesday, January 11, and Thursday, January 20 are currently full. We are offering two more sessions for all grade levels on Thursday, January 27. The link to sign up for a Zoom session can be found here.

Additionally, in an effort to maximize participation, we are offering an anonymous survey online. The survey will be open for the month of January, and your responses will be sent directly to the same consultants. If you prefer a hard copy of the survey mailed to you or are requesting translations, please email casey_ngo_miller@psbma.org or call (617)-730-2444.
REMINDER: SY2022-23 and SY 2023-24 District Calendars Released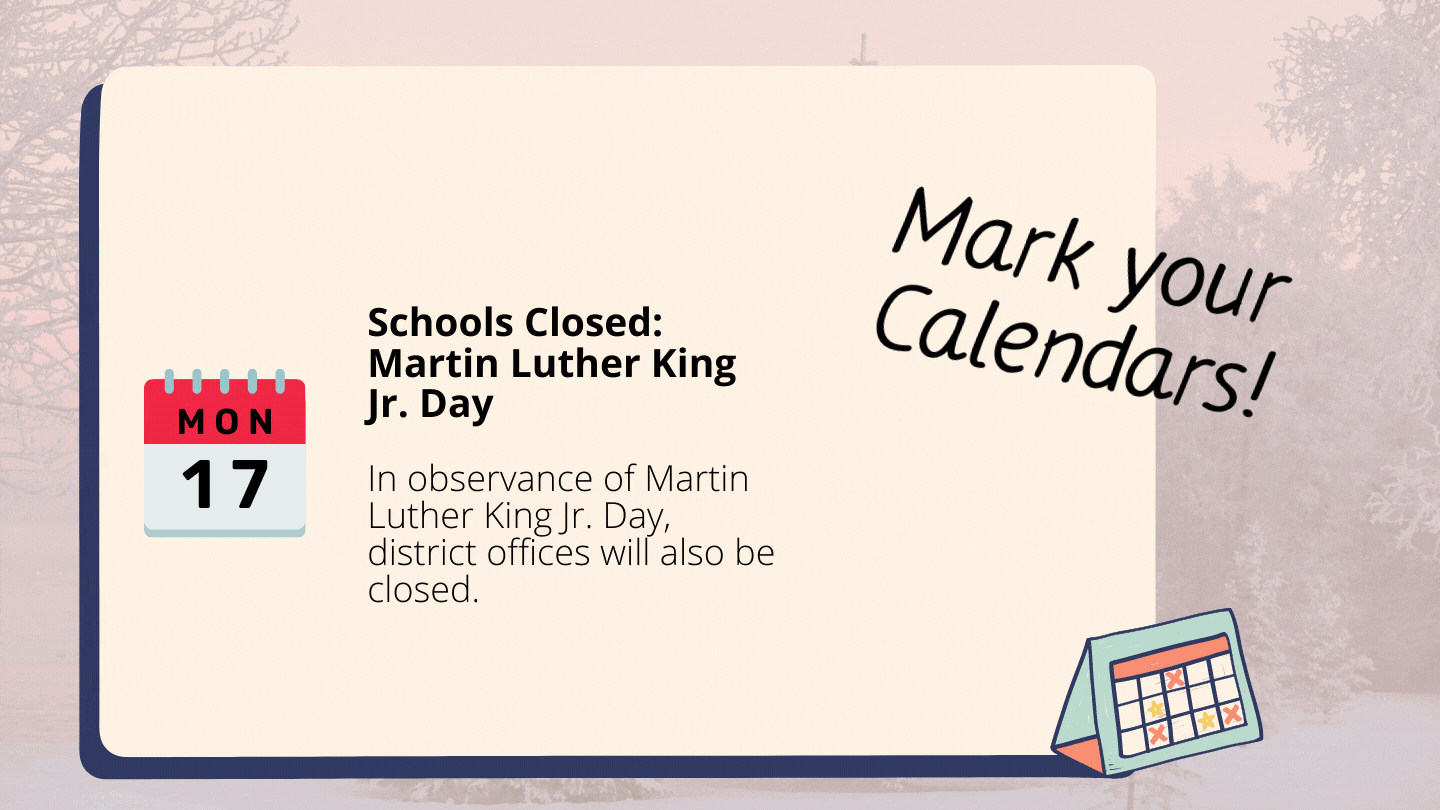 As a reminder, last month the School Committee approved district calendars for next year (2022-2023) and the following year (2023-2024). Both calendars are posted on our website, The first day of school for grades 1-12 next year is Tuesday, September 6.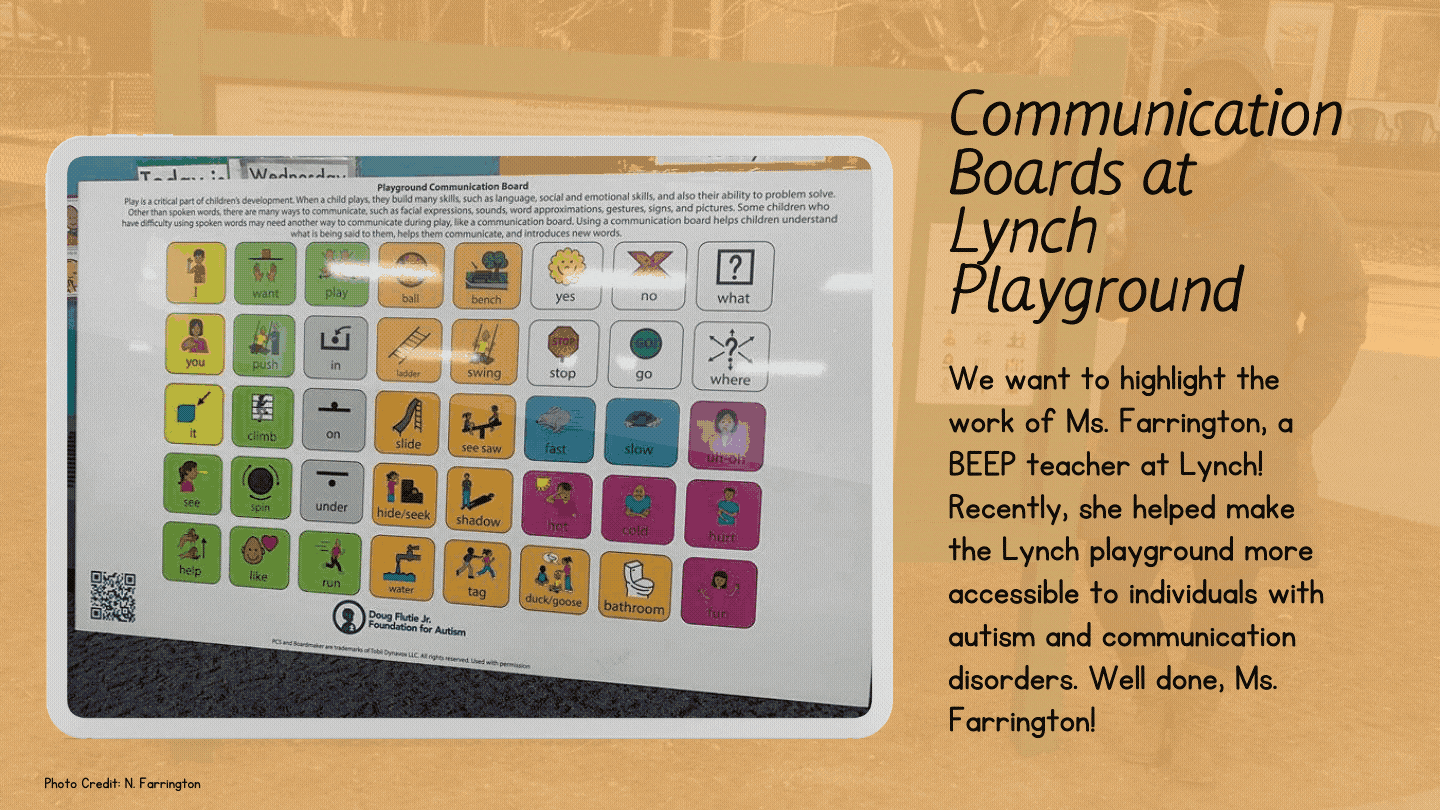 We want to highlight the work of Ms. Farrington, a BEEP teacher at Lynch! Recently, she helped make the Lynch playground more accessible to individuals with autism and communication disorders. In our classrooms, visual boards are used to help support our students with their communication skills. Ms. Farrington independently reached out to the Flutie Foundation to fund and create one of those communication boards, and subsequently worked with the Brookline Parks and Recreation Department to install it on the playground just prior to winter vacation. We say a huge "thank you" for your extraordinary efforts to support students with special needs within the entire Brookline community!

Town of Brookline MLK Day Celebrations: Please join Brookline's Martin Luther King, Jr. Celebration Committee for Brookline's celebration of the life and values of Dr. Martin Luther King, Jr. at 3:00 p.m. on Monday, January 17, 2022. In collaboration with the Brookline Community Foundation and the Brookline Office of Diversity, Inclusion, and Community Relations, this virtual celebration will feature a variety of speakers and performances, including some by our own PSB students! The program will premiere live on BIG's Civic Channel 3 on RCN and Comcast as well as on the BIG's online channel. More information, including a full listing of events and service projects, can be found here.
---