Superintendent's Update: January 21, 2022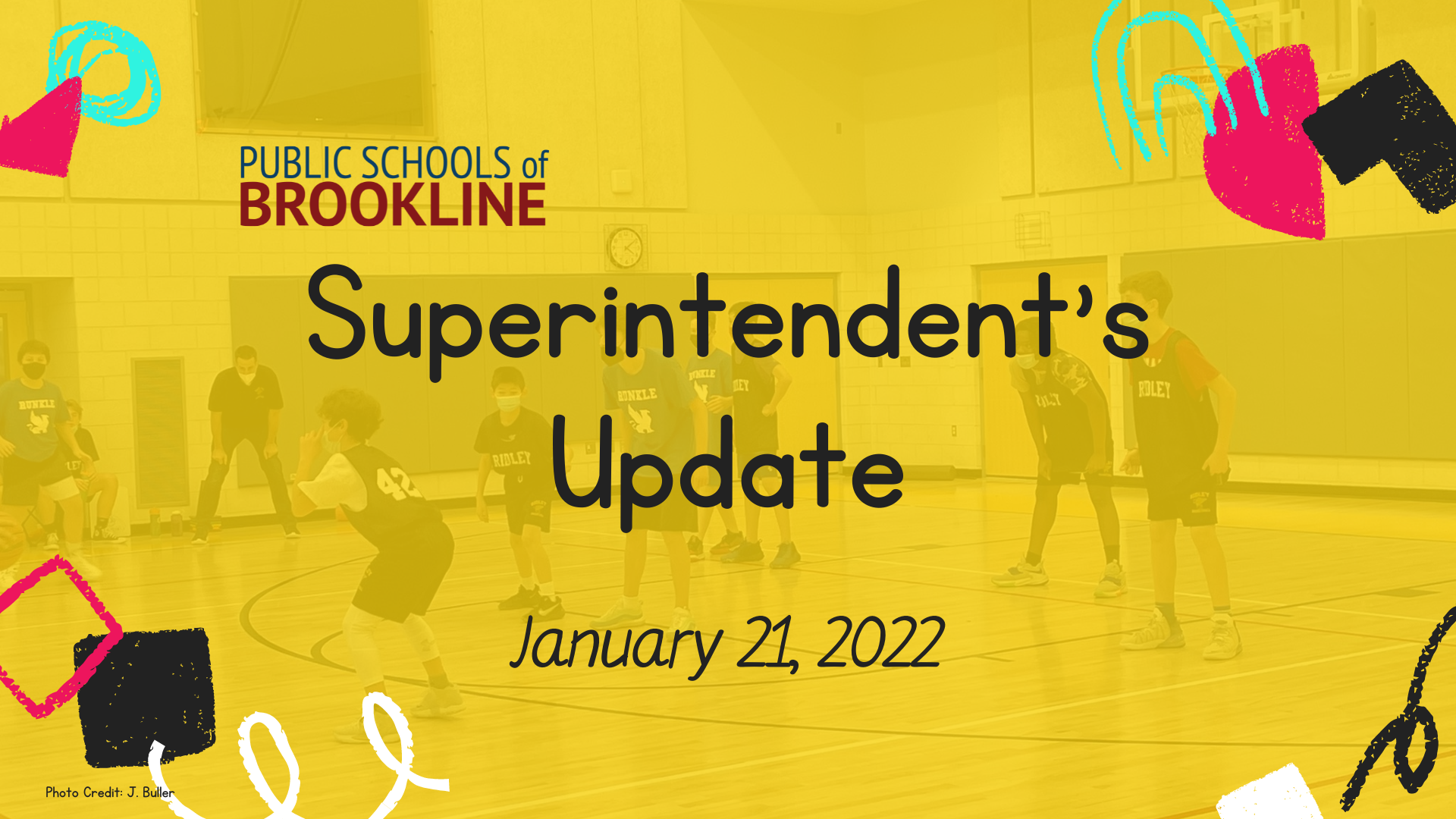 The communication below provides important information from the Public Schools of Brookline. Translated versions are available at the following links:
Table of Contents

UPDATE: COVID-19 Mitigation Strategies
Earlier this week, the Massachusetts Department of Elementary and Secondary Education (DESE) announced that they will provide a new, at-home antigen testing option within the statewide testing program. Under this new protocol, PSB will:
Provide interested families and staff with at-home rapid antigen tests. Participants will be asked to test at a scheduled time every week (e.g. every Tuesday before school) and submit all positive results to the school nurse.


Continue testing for students who experience COVID-19 symptoms during the school day.

If a positive case is identified at the PreK-8 level, PSB will also continue to notify the student/staff's classroom rather than contact trace for individual close contacts.
We will continue to provide more information (including how to sign up for this new program) by next week. In the meantime, we encourage you to get vaccinated and boosted (if eligible) if you haven't already and get tested if you experience COVID-19 symptoms and/or are identified as a close contact of a positive case. PSB will be hosting a vaccine clinic at the Florida Ruffin Ridley School on Tuesday, January 25 from 4:00 p.m. to 8:00 p.m. You can register for an appointment here.


Additionally, the Town of Brookline will be hosting a free PCR testing site at Brookline High School on Sunday, January 23, and Sunday, January 30 from 9:00 a.m. to 2:00 p.m. Walk-in's are available but sign-ups are strongly encouraged.
This week's spotlight on excellence is on the PSB Student Health Services team! All of our nurses have worked tirelessly to support our students, staff, and families since the pandemic began in 2020. It is also important to remind ourselves that our nurses are tackling the challenges of COVID-19 in addition to the myriad of issues experienced during a typical school day. And yet, they continue to provide the care and clinical expertise needed in any case, whether it is treating an allergic reaction, an injury in the playground, or providing our community with another dose of the COVID-19 vaccine. Their contribution to the academic success of students, and of in-school learning in general, simply cannot be overstated. Click here to review a full recording of the Spotlight on Excellence.
I am excited to present the FY2023 preliminary budget for our community's review. This document reflects the work of our staff at the school and district levels to maintain PSB's commitment to high standards for our students and to meet state and federal guidelines and standards. COVID-19 continues to impact our educational delivery and operations; our budget seeks to mitigate those impacts while also providing support to our students and stabilizing the District, as well as growing/adding support to various entities.
Over the next few weeks, PSB will be working closely with various Town departments to finalize the figures for the fiscal year 2023. You can also review the presentation of the budget from yesterday's school committee meeting.
K-8 World Language Curriculum Survey
In the Public Schools of Brookline, all 5th-grade students may choose between two languages for 6th-8th grade. Families may register a 6-8 world language selection offered by their school for their student via the Parent Portal. Students may continue the same language they studied in K-5 or begin a new language. Languages offered will vary from school to school. We ask all 5th-grade families to enter a language preference in the Parent Portal for their child's course of study for the 2022-23 school year by next Monday, January 24. More information can be found here.


In addition, we also invite you to provide feedback on a draft of our district's first-ever K-12 collaboration on our World Language Department Vision, Mission & Goals here.
Virtual Event: Social Media's Impact on Mental Health
The Public Schools of Brookline is offering a virtual event for parents and guardians of PreK-12 youth on Monday, February 7 from 5:30 p.m. to 6:30 p.m. In this event, parents/guardians and educators will learn individual and group strategies to optimize students' use of social media, and how they foster a culture of peer comparison within our community. Special thanks to the Massachusetts Youth Partnership (MPY) and Brookline Education Foundation (BEF) for supporting this important event. Click here to register!
Upcoming BHS Performing Arts Events
The BHS Performing Arts Department is excited to announce their latest production, Legally Blonde. This musical is filled with amazing singing, dancing, and comedy, and it also explores themes of friendship, feminism, and fighting for what you believe in. Performances will be held from Wednesday, February 2 through Saturday, February 5. Please visit brooklinefopa.org to purchase tickets and to see updates on any capacity limits or seating restrictions.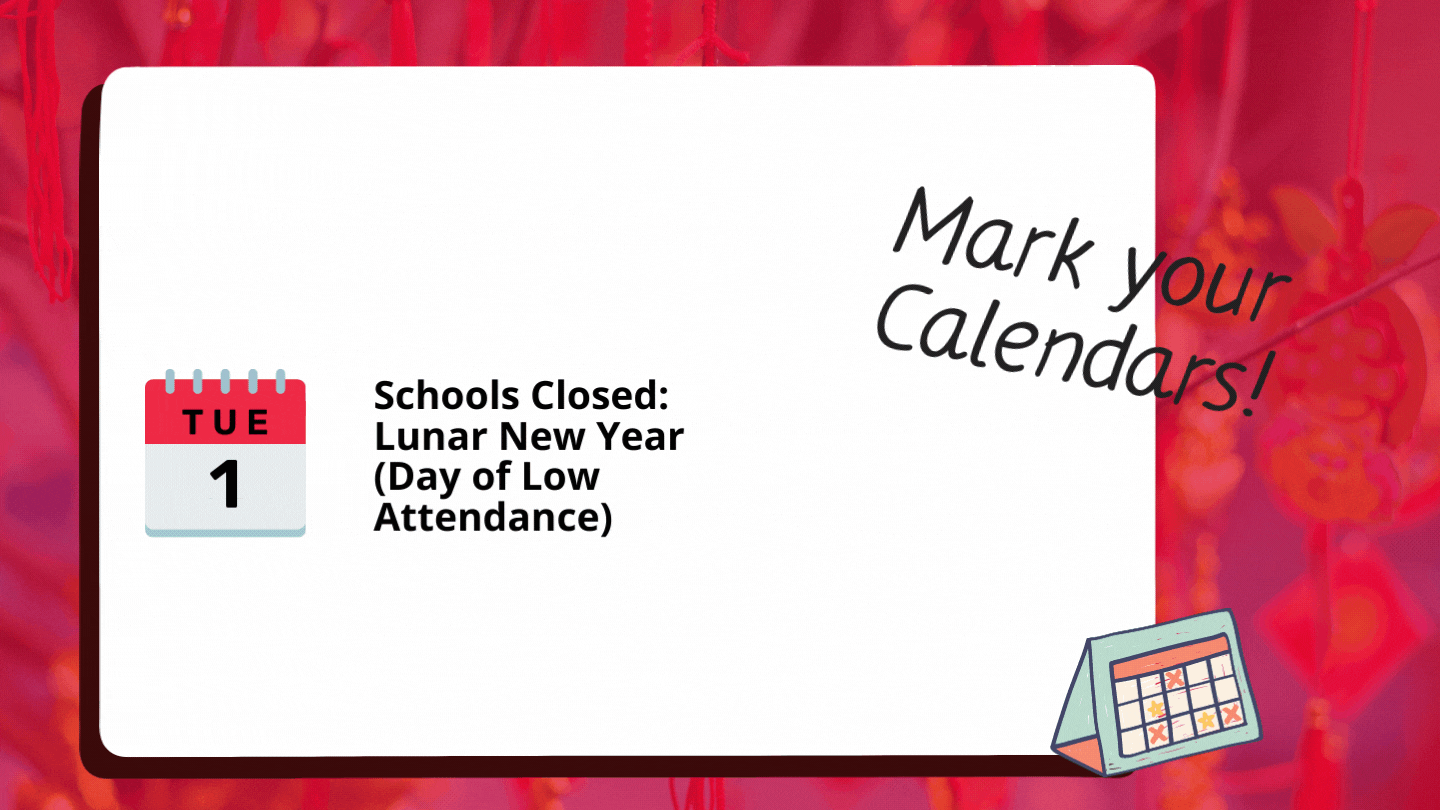 A reminder that all PSB schools will be closed on Tuesday, February 1 in observance of Lunar New Year! This holiday is traditionally celebrated by Asian cultures symbolizing the transition from winter, and typically involves families reuniting and gathering for a get-together meal.

PSB officially began honoring Lunar New Year last year, thanks to the efforts of then-BHS student Ashley Eng (Class of 2019). A change.org petition garnered over 750 supporters, culminating in the Brookline School Committee unanimously approving it as a school holiday in January 2020.
Town of Brookline Virtual Budget Forum:

The Town of Brookline would like to invite all residents to a virtual information session on Thursday, January 27 from 7:00 p.m. to 8:30 p.m.

to learn more about the town's budgeting process. This Forum will serve as an opportunity for residents to hear directly from town officials in providing greater insight on municipal finance and the town's annual budget process. The event will also include an early outlook on the town's Fiscal Year 2023 budget as its development gets underway, and residents will have an opportunity to provide general input on town budget priorities.

You can register for the meeting here.
---