Superintendent's Update: January 28, 2022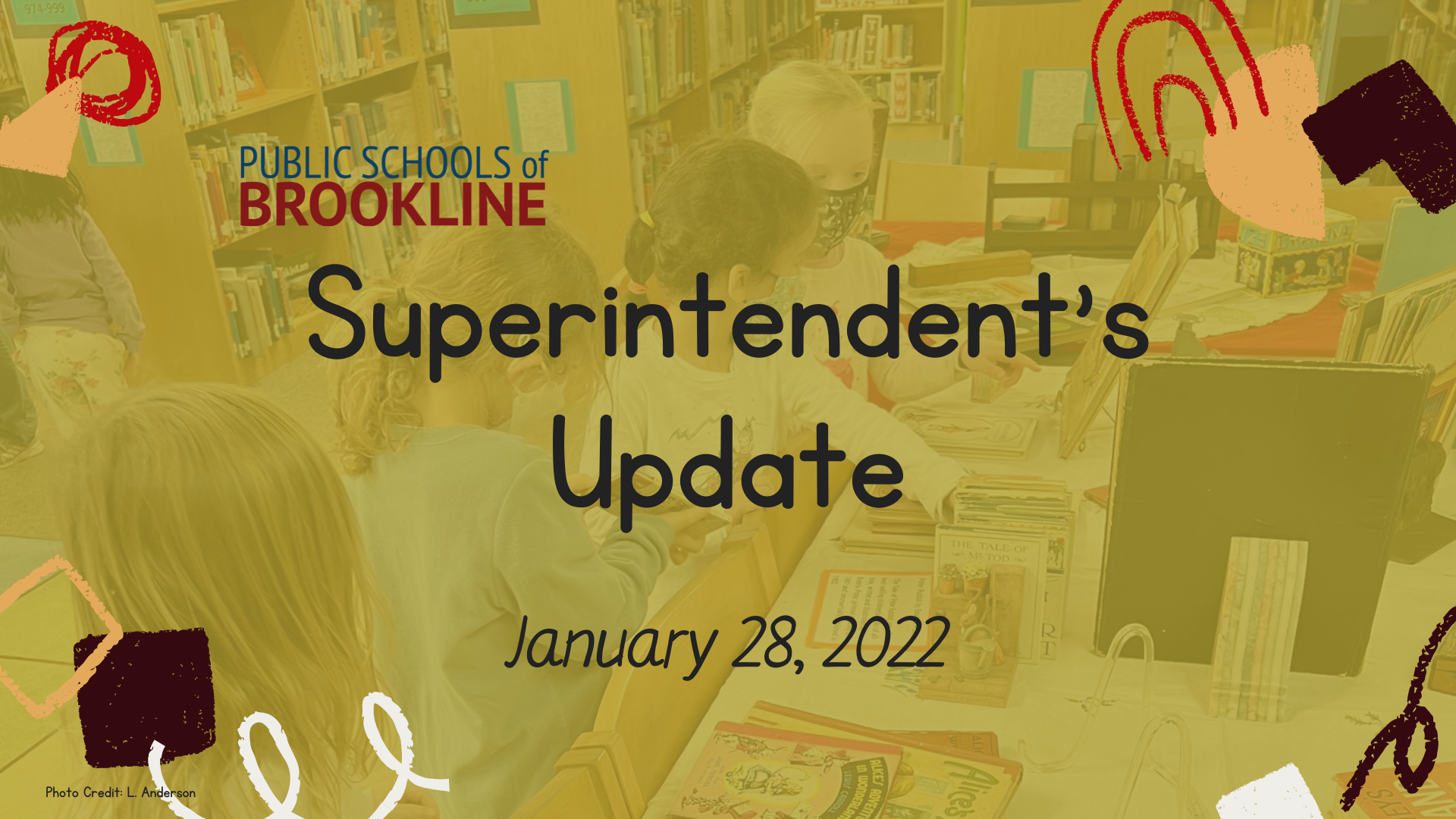 The communication below provides important information from the Public Schools of Brookline. Translated versions are available at the following links:
Greetings PSB community,
Today marks the halfway point of the 2021-22 school year - congratulations! All of us have experienced our share of challenges and triumphs, and I hope you take some time to reflect on how far we have come as a community - and how far we will go in the next few months.
For myself, I am reminded that there is always more to learn and celebrate. Yesterday, some of our staff took the opportunity to teach about International Holocaust Remembrance Day, utilizing the resources provided by Facing History and Ourselves (a nonprofit social justice organization based in Brookline) and the recent news headlines made on the subject. Community feedback on this topic has also been incredibly supportive, and there is an initiative to broaden this work to all schools within the district.
PSB always welcomes opportunities to enrich our students' development. One of our core values is to "celebrate the diversity within our community", and within this process are the dynamics of advocacy and change. We recognize that this celebration comes in many forms and occasions, and we welcome your advocacy in helping us discover, as a community, what this diversity encompasses within Brookline. It also gives me great confidence that forthcoming occasions - such as Lunar New Year (which PSB will celebrate as a holiday next Tuesday!) and Black History Month - had also once started as an idea, before it grew into what we experience today.
Finally, I hope all of you stay warm and safe in light of the impending winter storm that will begin later tonight, and enjoy the snow that will follow on Sunday!
Sincerely,
Linus J. Guillory Jr., PhD
Superintendent of Schools
Table of Contents
Progress Reports and Report Cards Published Next Week
The end of this week marks the completion of the first academic cycle of the 2021-22 school year for our students in Kindergarten through 5th grade. PSB teachers will now work to publish a report that documents their growth and development of Essential Learning Expectations (ELEs) by Thursday, February 3. For students in grades 6-12, staff will be publishing their Term 2 Report Cards on Wednesday, February 2. All PSB staff should aim to have their data electronically submitted by Monday, January 31 so that these documents can be communicated in a timely manner. PSB students in special education will also receive their Special Education progress reports at this time as well.
All families will receive a notification by email once your student(s) report has been published on the Aspen Parent Portal. Families may also log in to this website and access these reports digitally in the "Published Reports" section. If you have trouble logging in to the portal, please contact data_team@psbma.org.
Brookline High School @ 22 Tappan Street: Grand Opening!
PSB celebrated a monumental milestone in the Brookline High School Expansion and Renovation project this week with the opening of the 22 Tappan Street building! This new academic building serves over 700 BHS students and is constructed over the MBTA tracks at the Brookline Hills station. Features of this building include a highly transparent cafeteria, library, and theater facing Cypress Field. The building is also home to general use classrooms, physics labs, special education classrooms, administrative, and building support spaces. More importantly, the grand opening of 22 Tappan also unifies the BHS community through a single schedule for all students and concludes the need for cohorted travel between the Old Lincoln School and the 115 Greenough Campus.
We want to thank all of our students, staff, families, and community members for their support and patience in this project, as well as members of the construction and building teams for their hard work and persistence!
Brookline Mock Caldecott Contest Winners


In our December 10 update, we highlighted the wonderful work of our librarians and the creation of the Mock Caldecott contest; students learned how to judge picture books according to the criteria set by the American Library Association, then applied their understanding to read and discuss their favorites.
We are pleased to announce that our students have selected Jon Klassen's The Rock From the Sky as their 2022 Mock Caldecott contest winner. Visit the Brookline Mock Caldecott website to learn more about the other books selected by our students.
REMINDER: At-Home COVID-19 Testing Program for PSB Students and Staff
We want to take a moment to thank you for your responsiveness in signing up for the at-home testing program. Participating staff will receive test kits every week beginning Monday, January 31, while participating families will begin receiving kits on Monday, February 7. We expect all participants to test every Tuesday evening and report any positive results to the school nurse.
As a part of this change in protocol, PSB will discontinue Test and Stay, and discontinue contact tracing for all in-school close contacts. This means that if your student(s) is a potential close contact of a positive case in school, they may continue to come to school and do not have to be quarantined as long as they are asymptomatic and wear a mask at all times, regardless of their vaccination status. More information on test kit distribution will be sent to you next week.
REMINDER: FY23 Budget Calendar Community Engagement
Last week, we published our budget book for the 2022-23 school year, containing information about PSB's priorities and preliminary funding requests. Following the budget calendar set by the Brookline School Committee, a public hearing on the budget is set for the School Committee Meeting on Thursday, February 3. If you would like to leave a comment or provide feedback, please contact school_committee@psbma.org.
In addition, the Brookline Parents Organization (BPO) will be hosting a virtual event on the school budget this Sunday, January 30 at 7:00 p.m. A "town hall" style Q&A session about the Brookline Schools' Budget will be held with PSB Deputy Superintendent of Administration and Finance Samuel Rippin, Brookline School Committee Finance Chair Mariah Nobrega, and Brookline School Committee Member Steven Ehrenberg. You can register for the zoom Q&A here.
REMINDER: Special Education Program Review Survey
Following up on an earlier communication from this week, PSB invites all special education families to complete an anonymous survey on the Special Education Program review. More information on this process, including the survey link, can be found here.
School Highlights
Community Updates
---