Superintendent's Update: October 22, 2021

The communication below provides important information from the Public Schools of Brookline. Translated versions are available at the following links:
PSB Schools Ranked within Top 100 in Massachusetts
Every year, the U.S. News & World Report publishes a national K-12 school directory based on their performance in state assessments. The 2021-22 report was the first in which high schools, middle schools, and elementary schools were all ranked and reported.


We are pleased to announce that two of our PSB Schools were ranked top 5 in "Best Middle Schools in Massachusetts" category. Additionally, all of our schools were ranked within the top 100 best schools in the state. As a district that prides itself on seeing every student by face through a high-quality and well-rounded education, we are proud and grateful for this recognition.
Update on Family Surveys
I am pleased to share entry planning surveys for all PSB families to complete. You can access the links to the survey here.


This survey is a part of my entry planning process as your new Superintendent and is designed to help me learn about the expectations, hopes, dreams, and concerns of the community. Your responses to this survey will be anonymous, confidential, and only reported in the aggregate. No one will be able to see individual responses that were submitted. Please complete this survey for each PSB student in your family by Friday, November 5.
PSB Program Review
Since 2005, PSB has been undergoing several systematic and public reviews of its educational programming. Through the program review process, specific curriculums and subject areas are vetted with PSB students, staff, families, and community members. We are excited to present two key updates on the recent program review work:
Special Education: This year, PSB will partner with two external consultants to conduct a review of its Special Education program. The review seeks to answer the following guiding questions:



To what extent do all students with disabilities have equitable support and access to both general education and special education programming?

What is the experience of parents/guardians as they engage in the planning and delivery of special education services for their children?

What, if anything, would support a stronger collaborative partnership? To what extent does the current special education administrative organizational structure support effective and equitable programming for students with special needs?
As part of this review, PSB will invite parents/guardians and staff to provide feedback on its Special Education program. Outreach for participation in interviews, focus groups, and surveys will go out in December. Multiple opportunities to participate will be provided to ensure we capture as many of your experiences as we can. This program review will ultimately help inform the broader strategic planning process from the Office of the Superintendent.
Mathematics: Following the conclusion of the program review that began in 2017, PSB will be implementing the Investigations3 Math Curriculum across all K-5 classes this year. Investigations3 is a focused, coherent, and rigorous K-5 mathematics curriculum that embeds a balance of conceptual understanding, procedural fluency, and application within its content.

In addition, the instructional routines, activities, and engagement strategies built into Investigations3 have been designed to support all learning profiles, and naturally embed social-emotional learning principles. To learn more about Investigations3 and other resources it provides, please review this letter from Matt Rosenthal, our K-8 Mathematics Coordinator.
Join the PSB Coalition of Anti-Racism Education (CARE)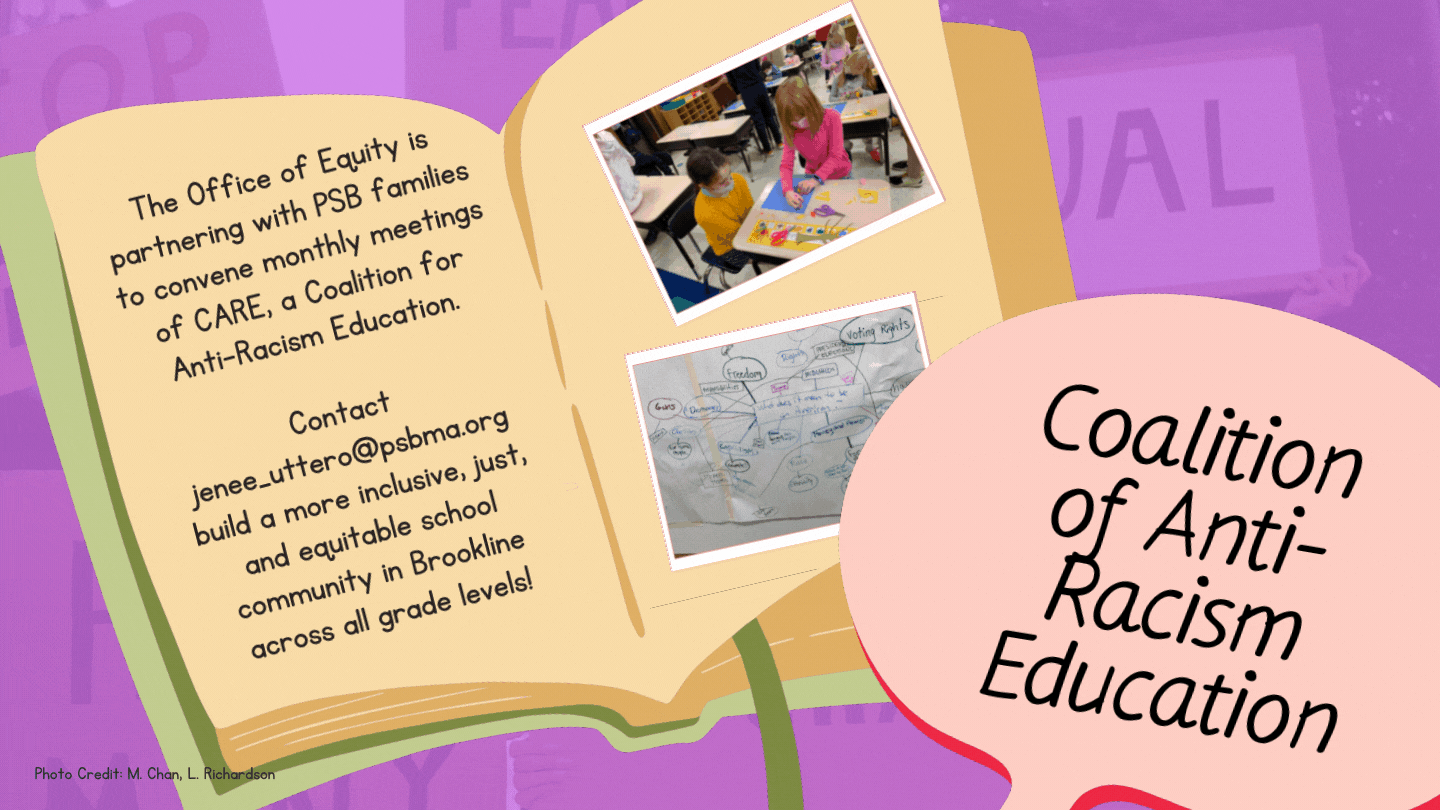 The Office of Equity is partnering with PSB families to convene monthly meetings of CARE, a Coalition for Anti-Racism Education. Representing all of our schools, CARE is a group of families that join together to address racism (a system of advantage based on race) and systemic injustices. Broadly speaking, these terms are defined as deeply ingrained racist thinking, practices, and actions embedded in the core foundations of American society that have persisted over centuries and continue today. The primary goal of CARE is to build a more inclusive, just, and equitable school community in Brookline across all grade levels, from BEEP to high school and through graduation.
This year, CARE members will serve as liaisons to the diversity and equity groups at their respective students' schools. In addition, CARE will sponsor anti-racism education opportunities for families and share advisory feedback around district-level equity efforts. This includes actively challenging and changing the policies, behaviors, and beliefs that perpetuate racist ideas and actions within our community.
Please reach out to Jenee Uttaro (jenee_uttaro@psbma.org), Senior Director of Educational Equity, if you are interested in joining the work!
Spotlight on Excellence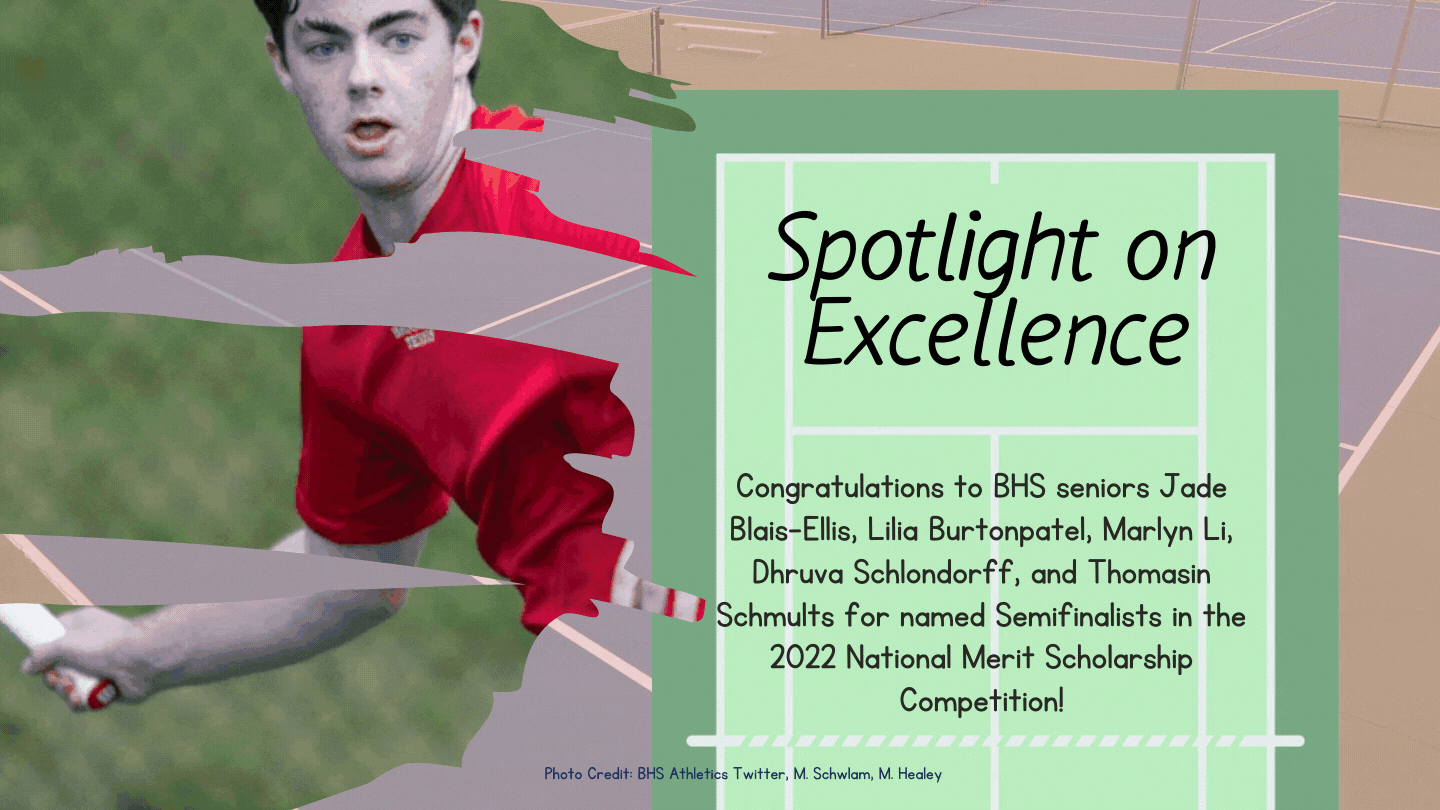 This week's spotlight on excellence focuses on the incredible feats of the Brookline High School boys tennis team! These student-athletes have powered the Brookline High School boys tennis team to successive state titles and undefeated seasons. Most recently, the team earned the Massachusetts Interscholastic Athletic Association (MIAA) Division One State Championship in 2018, 2019, and 2021. If the pandemic had not disrupted the 2020 season – they would likely have earned the top spot in 2020, as well!
In addition to winning the state championship, several players were named All-Scholastics and Athlete of the Year by the Boston Globe and Boston Herald during this unprecedented streak of success. Congratulations to coach Micahel Mowatt and his team, and we wish all the players luck in repeating for the title in Spring 2022!
PSB COVID-19 Vaccine Clinic
PSB will host another COVID vaccine clinic on Wednesday, October 27 from 6:30-7:30 p.m., in the gym at the Lincoln School. As in previous clinics, PSB will be administering two doses of the Pfizer vaccine. We anticipate having the Moderna vaccine at subsequent clinics, but not at the clinic next week.
Pfizer booster shots will also be available for those who qualify. A single booster dose of COVID-19 Vaccine may be administered at least 6 months after completion of the primary series of the Pfizer or Moderna vaccine to individuals who are:
65 years of age and older,

18 through 64 years of age at high risk of severe COVID-19, or

18 through 64 years of age with frequent institutional or occupational exposure to SARS-CoV-2
Anyone over the age of 12 may sign up for an appointment here.
Negotiations Update with the Brookline Educators Union (BEU)
We are pleased to announce that both the School Committee and the Brookline Educators Union (BEU) have formally ratified the memorandum of agreement (MOA) for the reopening of schools in the 2021-22 school year. In the weeks since the tentative agreement was first announced on the October 8 update, the School Committee and the BEU have revised several policies and procedures for reopening. These changes include:
PSB staff who are exempted from COVID-19 vaccination will now provide one negative PCR test per work week as a condition of employment.
The updated MOA and policies can be viewed in their entirety at the "School Committee - Meeting Materials" section on the PSB website.
BHS Drama Society Presents: Almost Treasure Island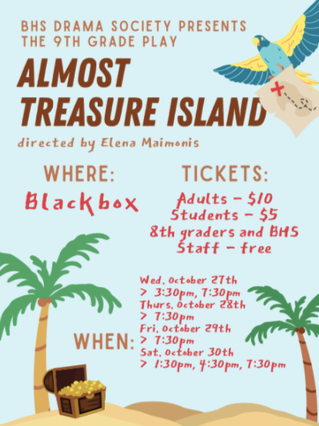 In-person performances are back at Brookline High School! From Wednesday, October 27 through Saturday, October 30, 9th grade students will be performing Almost Treasure Island by Eddie McPherson, a play that follows the journey of the pirates and villagers setting out to find the hidden treasure on a mysterious island. Both groups are faced with a rather large obstacle along the way and will do whatever it takes to find the treasure first!
This playful comedy is filled with adventure, deception, greed, dance, and a little bit of magic - it's also family-friendly and open to all ages. Congratulations to the fantastic cast and crew of 9th graders who have been working extremely hard to tell this story, and we encourage you to watch a performance some time next week. Purchase your tickets here!
Department Updates

Student Services: The PSB school counseling department recently revamped its website! Click here to access a variety of resources, activities, and tools that caregivers can use at home to support the social-emotional learning (SEL) and mental health of their children.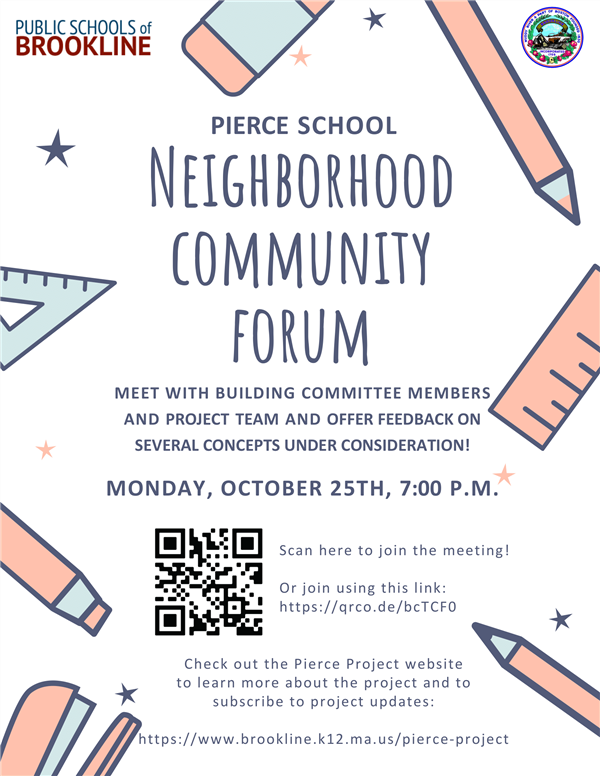 Building Projects: The Pierce School Building Advisory Committee invites you to a virtual Neighborhood Community Forum next Monday, October 25 at 7:00 p.m. This is a wonderful opportunity to meet with committee members, the project, and offer feedback on several design concepts that are under consideration. You can join the meeting using this link. To learn more about the Pierce project and subscribe for project updates, please visit https://www.brookline.k12.ma.us/pierce-project.
Community Updates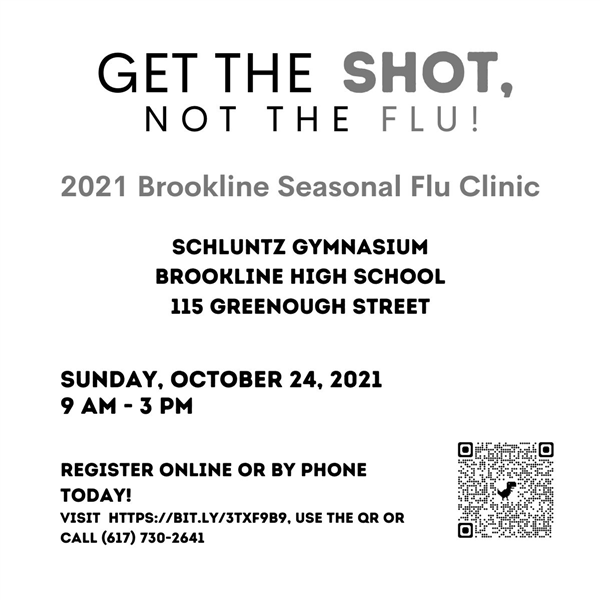 Community Flu Clinic: The Brookline Department of Public Health will hold a free flu clinic for all residents this Sunday, October 24, from 9:00 a.m. to 3:00 p.m. at the Brookline High School gym. Residents who wish to attend the clinic are asked to register in advance online, or by calling 617-730-2641. Additionally, residents are asked to bring all insurance and Medicare cards and a form of ID with them to the clinic. Individuals without health insurance are welcome; there will be no charge.
Upcoming Dates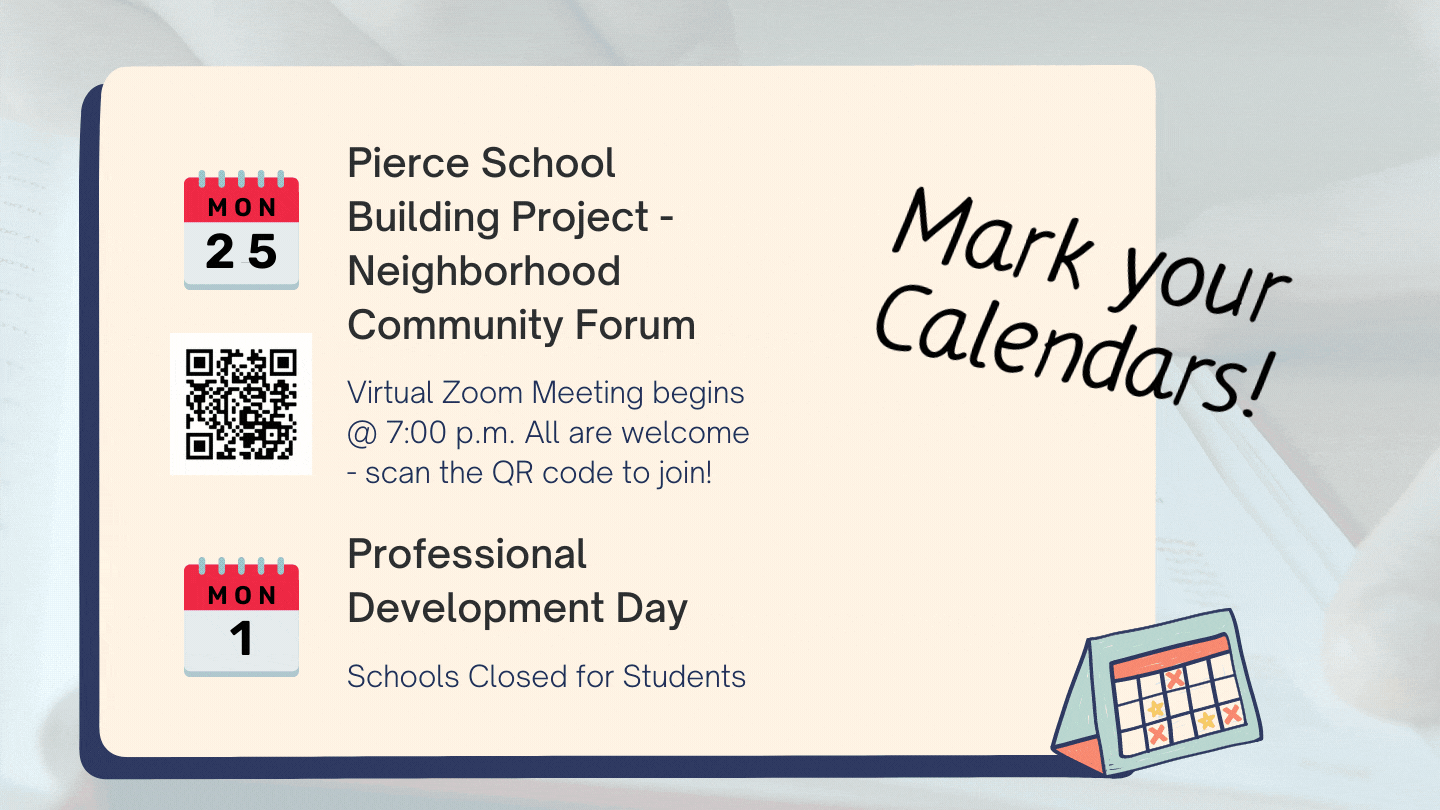 ---