Step 4: School Assignment
The Office of Registration and Enrollment will facilitate and determine all school assignments for families.


Timeline

Assignments are determined based on the date you complete registration (including English Language Proficiency Screening, as applicable). There are several registration periods throughout each year: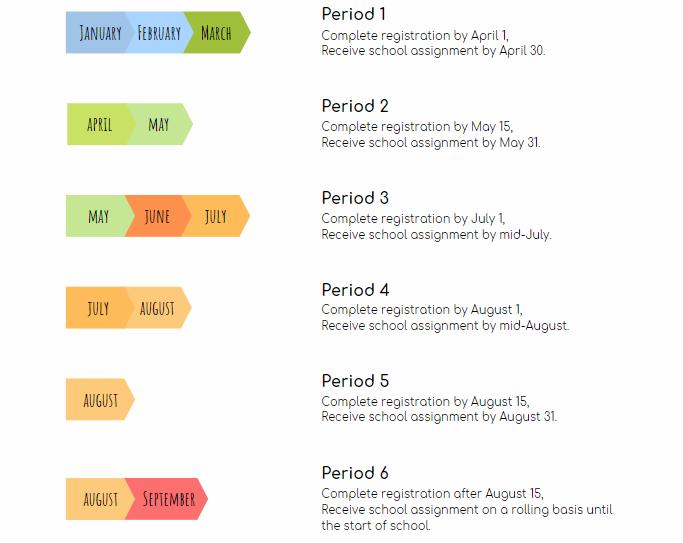 Determining Your School Zone

Students are generally assigned to a school based on the location for their primary residence in Brookline. Students are guaranteed enrollment at their zoned school.

Can I attend a different school?

While students have a right to attend the school in the zone where they reside, the Public Schools of Brookline endorses a policy of open enrollment, subject to certain provisions and restrictions set forth by the School Committee.

Please keep in mind that if a transfer is approved to one child in a family, there can be no guarantee that a sibling will be granted similar approval. Additionally, the transportation of students to out-of-district schools shall be the responsibility of the student's family.

As with all School Assignments, the Office of Registration and Enrollment shall have the sole responsibility of deciding out-of-district transfer requests.
Buffer zones

Please keep in mind that many addresses in Brookline fall within buffer zones.

Buffer zones exist to help keep class sizes equitable across the district.

Each family in a buffer zone will provide their preference for a school assignment. While the Office of Registration and Enrollment makes every effort to honor buffer requests, enrollment at each of our K-8 schools is a key factor in school assignments.

Enrollment patterns can, and do, change; buffer zones are designed to allow the school district to flex with these changing patterns and keep our level of instruction at its best quality at all times.

As our staff works with the Office of the Superintendent to review student placements, we must consider keeping class sizes as small as possible to provide the highest standard of instruction for all of our students. Class size, whether or not there are siblings and family preferences, are all considered when making a school assignment.
Native Language Support Program (NLSP) assignments

A student who qualifies for English Language Education (ELE) services may take advantage of a Native Language Support Program (NLSP) at the Public Schools of Brookline.

Native Language Support Program provides additional instruction and English development to students through their home language. Students who qualify for NLSPs may attend a school that is outside of their school zone. This program is offered in the following languages:

Chinese - at Pierce School

Hebrew - at Coolidge Corner School

Japanese - at Lawrence School and at Lincoln School

Korean - at Baker School

Russian - at Driscoll School

Spanish - at Runkle School
Special Education Supports

Students currently receiving specialized instruction and support through an IEP will work with the Office of Registration and Enrollment, Office of Student Services and other educators within PSB to determine the most appropriate school placement, as well as other supports and services your student might need as they transition into PSB.
Determine Your School Zone