On the Road to Kindergarten!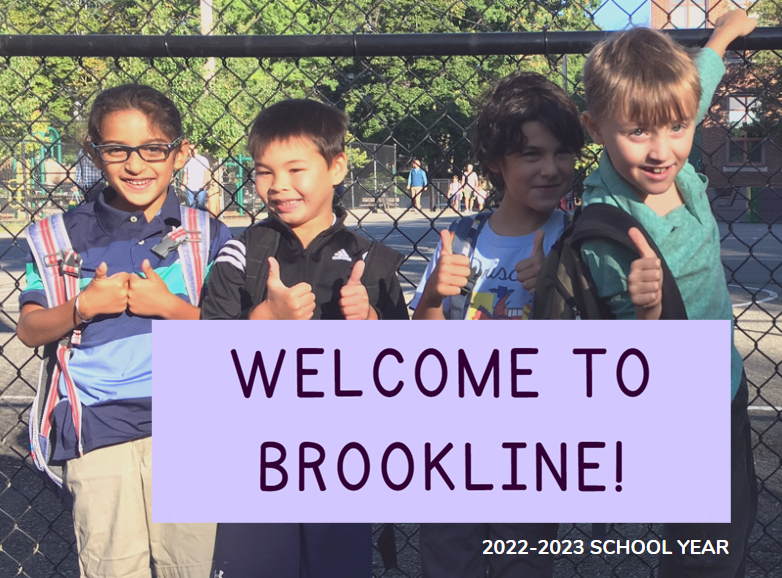 Welcome to Brookline!

The Public Schools of Brookline (PSB) serves over 7,000 students in Kindergarten to Grade 12. We operate eight elementary (K-8) schools and one high school in the Town of Brookline.

The Office of Registration and Enrollment provides a centralized service for all Brookline residents to process new student registration, provide initial orientation to the Public Schools of Brookline, and perform ongoing residency verification.

We are excited to welcome our newest students to Kindergarten! We know this is a very special time in each student's life, and we look forward to joining you on this journey.

We hope that by providing comprehensive information and detailed instructions, registration will be straightforward, allowing your family to enjoy the excitement. Please view or download our booklet, On the Road to Kindergarten! for in-depth details and instructions to help you along the journey to kindergarten. This booklet can be accessed on the right-side column.
Eligible students are Brookline residents who are five (5) years old on or before August 31.

You and your student must reside in the Town of Brookline in order to register for Kindergarten.

During the registration process, you must present documentation of your student's primary residence in Brookline to the Office of Registration & Enrollment.

If you are planning to move to Brookline and hope to enroll your student(s), you may begin to fill out the application when you are able to present documentation that verifies your Brookline address (i.e. leasing agreement, purchase and sale agreement). However, please note that your student(s) cannot begin schooling until they are physically residing in Brookline and have completed all placement determinations with their school-based staff.




Temporary residence in the Town of Brookline (4 weeks or less) for the sole purpose of attending the Public Schools of Brookline will not be considered residency. If you intend to change addresses during the registration process or will be transitioning from a temporary residence to a permanent residence in Brookline, you must present proofs of residency for both addresses in order to enroll your student(s).


Proof of residency does not apply to homeless students and families covered under the McKinney-Vento Act. All homeless families should contact the Public Schools of Brookline McKinney-Vento liaison, Dr. Maria Letasz, who will work with you and the Office of Registration and Enrollment to enroll your students. The liaison can be reached at 617-308-6400 (text enabled).



METCO or Materials' Fee students follow a different process for registration. If your student is accepted through either PSB program, the Office of Registration and Enrollment will contact you after you receive your acceptance notification with more details.


Students registering for Kindergarten in the 2022-2023 School Year must be born between September 1, 2016, and August 31, 2017. There are no exceptions to this requirement.
When do I enroll my student?

To begin an online application, you must have a Brookline address secured (i.e. a signed lease, or a closing date for a newly purchased home). We respectfully request that you schedule your enrollment interview no more than 2 weeks prior to your date of occupancy of your Brookline address.

No student's enrollment will proceed until they provide all required documents AND the family has taken occupancy of their Brookline home.

Where do I enroll my student?

Any student wishing to enroll or re-enroll at the Public Schools of Brookline will need to complete the registration process with the Office of Registration and Enrollment. Registration enrollments do not take place at our schools. Families will need to present three types of proofs to complete the enrollment of their students. You'll learn more about what documents are needed in Step 1.
Address:

Office of Registration Enrollment
Public Schools of Brookline
333 Washington Street, 4th Floor

Brookline, MA 02445

Our office dropbox is located in the left vestibule as you enter the main entrance of Brookline Town Hall.



Monday - Thursday: 8:00 a.m. - 3:30 p.m.
Friday: 8:00 a.m. - 3:00 p.m.

Phone: (617) 264-6492
Fax: (617) 730-2601